Creamy Carbonara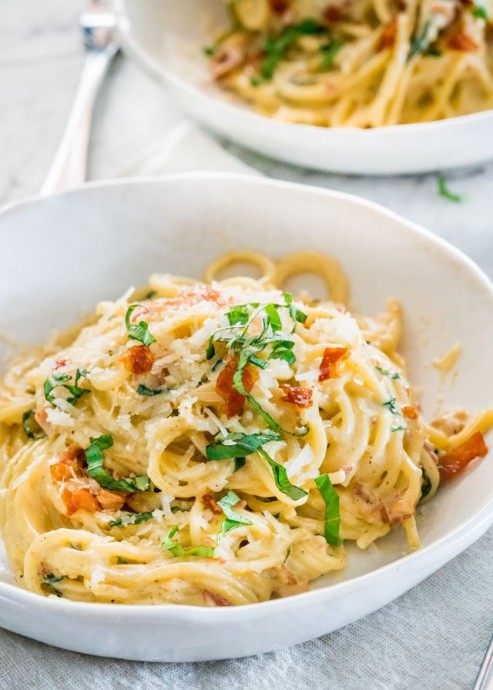 This Creamy Carbonara recipe is a plate of heavenly, creamy pasta. Silky spaghetti with crispy pancetta in a super creamy and cheesy sauce. Simply delicious and so easy to make at home.
At its core, this Italian dish is from Rome and is super super simple. It's made from egg, hard sharp cheese, pepper, and guanciale – a cured pork. If guanciale is a little too hard to find pancetta or bacon works in a snap.
My carbonara recipe uses some cream to thicken it all up and ensure it really sticks to your ribs. Yes, I know the traditional dish doesn't have cream in it, but that's why this is creamy carbonara! If you want to go as authentic as possible, nix the cream and hunt down some guanciale, which is available is most specialty Italian supermarkets. Just keep in mind that axing the cream will result in a dish that is a bit drier, hence not quite a creamy carbonara. For pasta you can also use fettuccine, rigatoni, or bucatini.
Ingredients:
8 ounces spaghetti uncooked
6 oz pancetta chopped
2 cups half and half
2 large egg yolks
1 ½ cups Parmesan cheese freshly grated, plus more for garnish
1 tsp pepper freshly ground
4 tbsp basil chopped