Oven Baked Pork Chops with Potatoes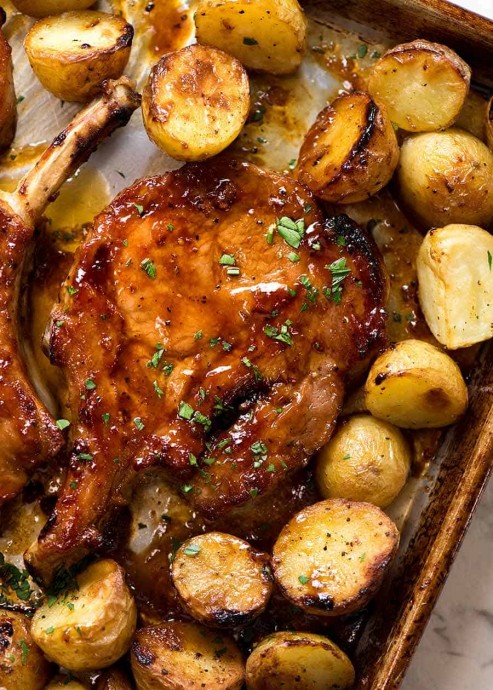 One of my favourite standby pork chop recipes! These Baked Pork Chops are a terrific way to cook pork chops in the oven. Slathered in a country-style sauce then baked until caramelised on the outside and juicy inside. So fast and easy to prepare, you can make this tonight! I have no idea what to call the sauce I use for these pork chops. I just think it sounds cute to say "country-style rub" so that's what I go with! Though from a practical perspective, the ingredients are akin to what I use to make country-style ribs.
It's savory with a touch of sweet, balanced out with a bit of acidity. It makes your baked pork chops golden and sticky. And I kid you not – I bet you have all the ingredients in your pantry to make this right now! This sauce is a secret weapon to make really tasty pork chops in the oven. Usually, baked pork chop recipes lack caramelisation. With this sauce, your chops will come out golden and sticky!
Ingredients:
1 tsp Worcestershire Sauce
2 tbsp ketchup (Note 1)
1 tbsp soy sauce (Note 2)
2 tbsp brown sugar (or white)
1 tbsp olive oil (or vegetable or canola oil)
1 clove garlic, minced
2 tsp apple cider vinegar (Note 3)
4 pork chops / cutlets , around 200-250g/7-8oz each including bone (Note 4)
800g/ 1.6 lb baby potatoes , larger ones cut in half (Note 5)
1 tbsp olive oil
Salt & pepper