Vegetarian Chili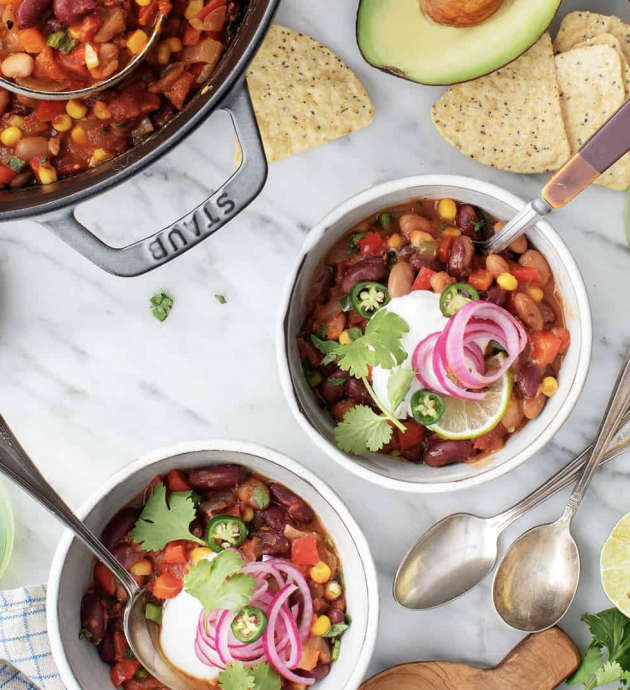 When chilly evenings call for comfort, nothing beats a steaming bowl of hearty chili. This vegetarian chili recipe is your ticket to cozy satisfaction without the need for meat. Packed with a medley of flavors and wholesome ingredients, it's the ideal dish to warm you up during the colder months.
Why This Chili Rocks:
Quick & Easy: With minimal hands-on prep, this chili is perfect for those nights when you crave comfort without the fuss.
Flavor Explosion: Chipotle peppers in adobo sauce and fire-roasted tomatoes create a symphony of smoky, spicy goodness.
Veggie-Packed: Loaded with onions, bell peppers, and optional veggies like carrots or celery, it's a nutrient-rich delight.
Fuss-Free Simmer: Let it simmer away on its own, and in just 30 minutes, you'll have a scrumptious vegetarian chili ready to devour.
Let's Dive into the Ingredients:
Chili Essentials:
Onion, garlic, and red bell pepper: For a savory flavor base.
Fire-roasted diced tomatoes: Adding a smoky depth to the chili.
Pinto and kidney beans: Canned convenience or cook from scratch for extra flair.
Water or vegetable broth: Essential for achieving the perfect consistency.
Chipotle peppers in adobo sauce: The stars of the show, bringing smokiness and spice.
Corn kernels: For a pop of color and crunch.
Fresh lime juice: Brightening up the dish.
Salt and pepper: Elevating all the flavors.