Easy Bruschetta Chicken Recipe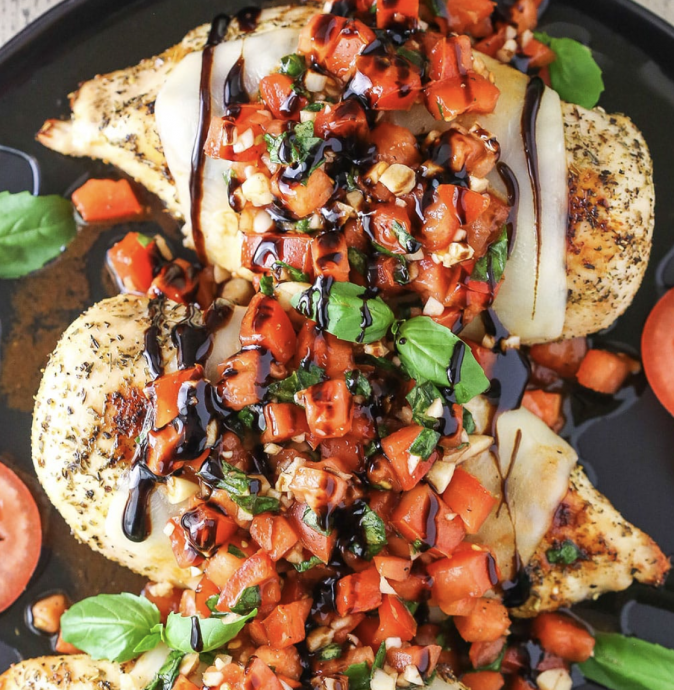 Indulge in the delightful flavors of this Easy Bruschetta Chicken recipe that transforms simple chicken breast pieces into a culinary masterpiece. Coated in a savory blend of garlic and spices, these tender chicken pieces are grilled to perfection, then generously crowned with a refreshing tomato and basil topping. To elevate the taste, a drizzle of balsamic glaze adds the perfect finishing touch. This quick and low-carb dinner idea is a delicious solution for busy weeknights, offering a burst of flavor that will have your taste buds singing.
Ingredients:
Tomato Basil Topping:
2 cups (260g) diced Roma tomatoes (5–6 tomatoes)
1 head of garlic, minced
1 1/2 tbsp olive oil
1 1/2 tbsp balsamic vinegar
5 tbsp (9g) fresh chopped basil
1/4 tsp salt
1/4 tsp black pepper
Chicken:
4 boneless skinless chicken breasts
1 tbsp olive oil
2 tsp Italian seasoning
1 tsp garlic powder
1/2 tsp salt
1/8 tsp black pepper
4 slices mozzarella cheese
4–5 tablespoons balsamic glaze
Experience the perfect marriage of textures and flavors as you savor the juicy, grilled chicken paired with the vibrant freshness of the tomato and basil topping. This Easy Bruschetta Chicken is not just a meal; it's a culinary celebration that brings excitement to your dinner table.