Emergency EASY Fish recipe – Parmesan Crumbed Fish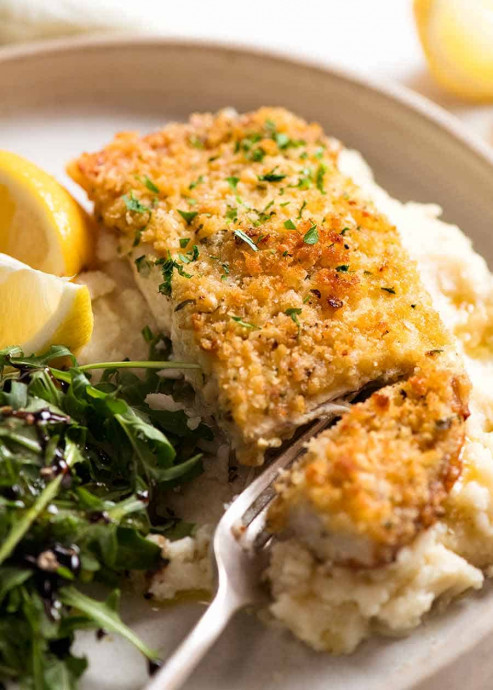 10 minute, insanely easy fish recipe with high returns for very minimal effort! This parmesan crumbed fish has a crunchy golden garlicky crumb – and guess what? No messy dredging. Bonus: super healthy fish recipe, clocking in at at just 260 calories per serving! I love a good crispy pan fried fish, and sure it only takes 7 minutes to make but we all have those days when we just can't deal with flour dusting and stove-top oil splatter. Right??
So this parmesan crusted fish is a recipe that i came up with in my former corporate days. I called it an emergency fish recipe because it's one of the most effortless fish dinners i know – if not the most effortless – with high returns for very small effort and the added bonus that it's healthy. For 3 minutes of your time, this is what i can give you: Perfectly cooked juicy fish Crunchy golden garlicky parmesan crumb (it's so delicious, you'll want to eat it straight out of the bowl!) No stove mess. Wholesome, made from scratch. A fish dinner that's incredibly quick 'n easy yet makes no sacrifices on the deliciousness factor! For a quick meal, toast up some bread, grab a handful of leafy greens, drizzle with oil and lemon juice, pinch of salt and pepper – and voila! Dinner. On the table in 10 minutes!
Ingredients:
2 firm white fish fillets (about 5 oz / 150g each), skin off, at room temperature
2 tbsp dijon mustard (sub mayo)
Olive oil spray
Salt and pepper
CRUMB
1/2 cup panko breadcrumbs
1 tbsp parsley , finely chopped
1/3 cup (30g) parmesan , finely grated
1 garlic clove , minced
1 tbsp olive oil
Pinch of salt