Lemon Madeleines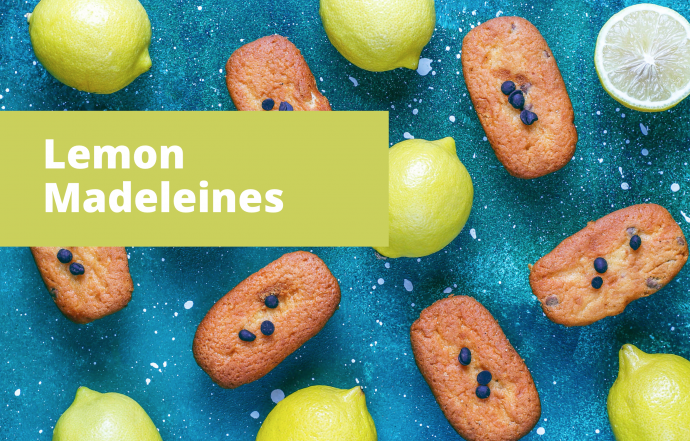 If you've never had madeleines before, they are kind of a cross between a cookie and a cake. And I would say more cake-like than cookie-like. They are almost like mini-cakes. They use a special pan to make, which gives one side a shell-like appearance. The other side gets a hump classic on madeleine cookies.
The glazed variation of this recipe uses a hint of lemon in both the cookies and the glaze, taking this dessert to the next level. Choose any you like and enjoy chewy and delicious cake-like cookie, bursting with lemon flavor. I hope you'll try this recipe for Lemon Madeleines especially if you're a lemon lover.
Ingredients
130 g plain (all-purpose) flour
½ teaspoon baking powder
3 eggs
130 g sugar
2 tablespoons finely grated lemon zest
1 teaspoon natural lemon extract
115 g unsalted butter, melted
For limoncello glaze (optional)
190 g (6¾ oz/1½ cups) icing confectioners' sugar
2 tablespoons lemon juice
40 ml limoncello
Directions
Step 1
About an hour before baking, butter a full-size or petite madeleine pan very well and dust with a little flour, tapping out the excess. Transfer the pan to the freezer to chill. Preheat the oven to 425°F.
Step2
Sift the flour and baking powder together into a bowl. Place the eggs, sugar and lemon zest and extract in the bowl of an electric mixer and whisk on medium–high speed for 4–5 minutes or until pale and thickened. Gently fold in the flour mixture.
Step 3
Fold in the butter, a little at a time, folding well after each addition. Be careful not to fill any of the molds more than 3/4 full. Leave to rest for 15–20 minutes.
Step 4
Meanwhile, to make the glaze, whisk all the ingredients in a bowl until combined and smooth. Set aside.
Step 5
Fill the tins with the madeleine mixture until three-quarters full and bake for 7–9 minutes or until the edges are light golden. Turn out onto wire racks and cool for 2–3 minutes, then spoon over the glaze to coat.
Repeat with the remaining batter. Madeleines are best eaten on the day of making.
Serve with your favorite coffee for breakfast or with any refreshing drink during the day.
Recipe variations:
Orange - You could substitute out lemon juice and zest with orange juice and zest and make these orange madeleines.
Lemon raspberry - You could keep the lemon in the cookies, but take it out of the glaze and instead make a raspberry glaze similarly.
Coconut lime - You could use lime zest and juice in the place of lemon zest and juice. And you could toast up some coconut and once you've glazed the cookies, sprinkle or dip in the toasted coconut for a piña colada flavor.
Bon appetit!