Palak Paneer – Indian Spinach Curry with Cheese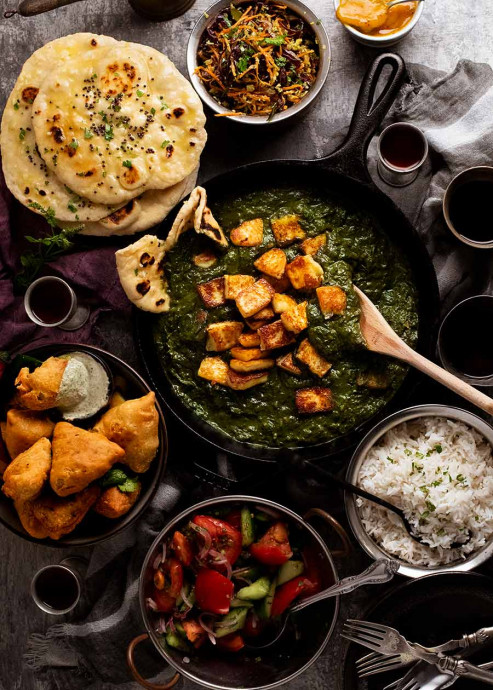 Palak Paneer is the ultimate and best-known Indian spinach curry, made with golden pan-fried pieces of cheese (paneer). For a recipe this special, I can't endorse shortcuts. This version is made entirely from scratch – including the paneer cheese!
While there are many curries across the Indian subcontinent made with spinach, none are probably as well-known across the world as Palak Paneer – a dish of chunks of a fresh cottage cheese, called paneer, swimming in a lush sauce made with fresh spinach. The spinach gives the sauce a naturally thick and creamy consistency, and palak paneer's signature deep, jungle-green hue.
This is one of the milder Indian curries out there, both in heat and spice intensity. The gentle spicing from fenugreek, cumin and coriander plays well with the delicate spinach flavour, without overwhelming it. Meanwhile, the paneer are like little creamy sponges that suck up all those tasty flavours in the sauce! This is a curry that can honestly please just about everyone. Whether it's kids or card-carrying carnivores, I challenge you to find someone who'll turn their nose up to palak paneer when it's this good! If you do want more cheese – and I really don't blame you – just scale up the Paneer recipe. It's no more effort to make more!
Ingredients:
30g/2 tbsp ghee or unsalted butter
1 1/2 onions , finely chopped (brown or yellow)
1 tsp fenugreek seeds (whole)
1 tsp ground cumin
1 tsp ground coriander
3/4 tsp salt , kosher/cooking salt (if using table salt, reduce by 1/4 tsp)
1/4 tsp black pepper
2 garlic cloves , finely chopped
2 tsp ginger , finely grated (20g)
2 tomatoes , peeled, seeded and diced
1 green chilli , finely sliced
700g/ 1.4lb fresh spinach leaves (English spinach) , thoroughly washed and roughly chopped (~9 cups very tightly packed)
1/4 cup water
1/3 cup + 1 tbsp cream (pure, heavy or thickened)
1 tbsp lemon juice