Cheesecake Stuffed Cookies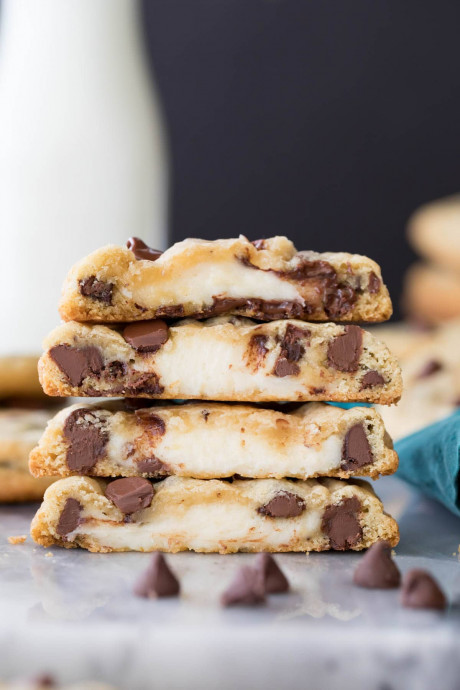 Perfectly soft and chewy cookies with a fun surprise! These Cheesecake Stuffed Cookies combine two incredible desserts into one treat. They're easy to make and I'll walk you step-by-step through the process. Today we're rolling two of my all-time favorite desserts into one. Soft and chewy chocolate chip cookies, meet rich, smooth and creamy cheesecake.
The ingredients needed here are all fairly typical for chocolate chip cookies, with the obvious exception of the cheesecake filling. The cookies may be stored at room temperature in an airtight container for up to 5 days. Because of the amount of sugar we've added to the cheesecake filling, refrigeration isn't necessary, but I honestly prefer these cookies cold (cheesecake should be cold after all, right?!). If you opt to refrigerate them, you should still store in an airtight container and enjoy within 10 days.
Ingredients:
Cheesecake Filling
8 oz cream cheese, softened
3/4 cup powdered sugar
1/2 teaspoon vanilla extract
Cookie Dough
1 cup unsalted butter softened
1 cup brown sugar firmly packed
½ cup sugar
2 large eggs room temperature preferred
1 teaspoon vanilla extract
3 cups all-purpose flour
2 teaspoons cornstarch
1 teaspoon baking soda
1 teaspoon baking powder
1/2 teaspoon salt
1 cup semisweet chocolate chips
1/3 cup mini chocolate chips (or substitute additional regular chocolate chips)