Beef Pot Pie Casserole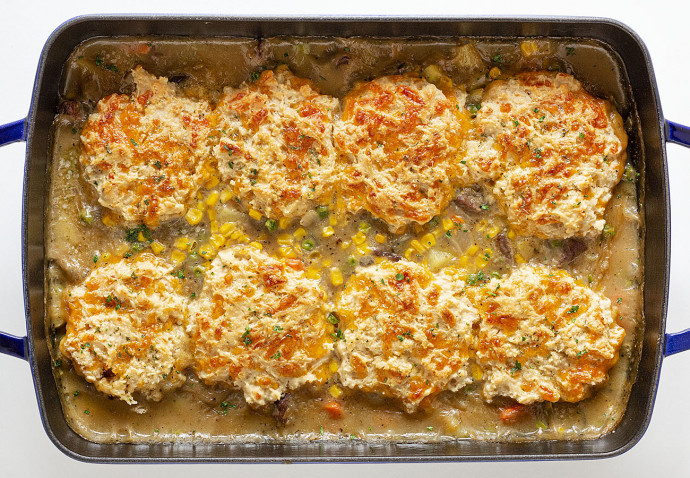 Beef Pot Pie Casserole is hearty and tasty enough to satisfy your hungriest and pickiest eaters! Not only is it filled with tender beef and vegetables, but this casserole is also topped with homemade cheesy garlic biscuits! There is nothing like a comforting meal on these cool Fall days. And, the weather is only getting colder, so this pot pie casserole is the perfect meal to warm you up and fill you up! You will get your beef and your veggies in one delicious dish!
There are two main parts to the Beef Pot Pie Casserole–the mouth-watering biscuits and the casserole. It looks impressive when it comes out of the oven, but it is really not too terribly difficult to make! No need to ask for a to-go bag of cheddar biscuits from Red Lobster, you can make them on your own! The topping is to brush over the baked casserole for extra yumminess! This recipe is not even baked in a pie pan, but it still has all the makings of a pot pie!
Ingredients:
BISCUITS
1/4 cup butter
2 cups (250g) all-purpose flour
1 tablespoon granulated sugar
1 tablespoon baking powder
1 tablespoon garlic powder
1 teaspoon kosher salt
1 cup (245g) whole milk
2 cups (230g) 8 ounces mild cheddar cheese, shredded
CASSEROLE
1/4 cup unsalted butter
3 cups beef sirloin or beef stew meat, cubed
3 cups beef broth
2 cups potatoes, diced
1 cup carrots, sliced
1 cup peas, frozen
1 can (15 ounces) corn
1 cup onions, diced
1 beef bouillon cube, crushed
1/2 cup corn starch
1/2 cup whole milk
2 teaspoons salt
1 teaspoon pepper
1 teaspoon garlic powder
1 teaspoon oregano
TOPPING
½ teaspoon dried parsley
2 tablespoons butter, melted