Fish Tacos With Catfish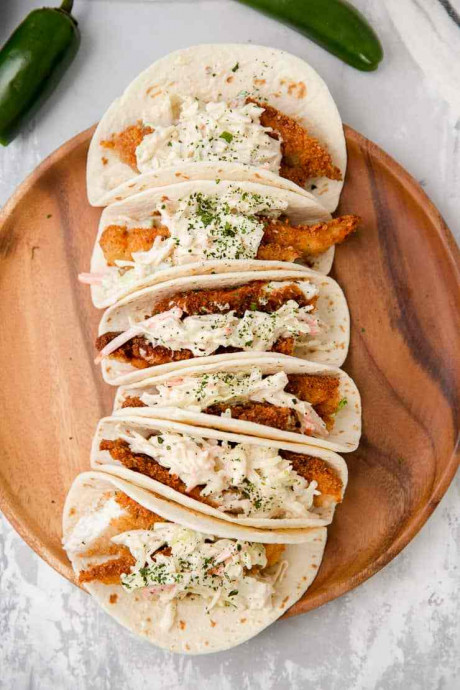 These crispy fish tacos make a fabulous weeknight meal! Hearty catfish is coated with bread crumbs then fried up until crisp and golden! Fish tacos with slaw are fun to eat and taste as good; even better than any restaurant fish taco!
The best thing about fish tacos is that you can use any fish you like! Fish tacos can reflect your tastes and your personalities! For this recipe, I used leftovers from this catfish sandwich. The fish was adapted from my southern fried catfish recipe. It is easy to make, tastes crispy and delicious!
You could also bake your catfish (breaded or dry-rubbed). To bake your fish, bread, or season your fish and place it in the oven. The fish will need to bake for about 15 minutes or until the fish flakes easily. You can also grill your fish by seasoning your fish and placing it directly on your greased grill grates. The fish will only take about 5-6 minutes per side. The fish is tender so be sure to keep an eye on it!I chose to pair the crisp fried fish tacos with a creamy, jalapeno slaw.
Ingredients:
3 fried catfish fillets
6 tortillas
¾ cup mayo
1 tablespoon lime juice
½ teaspoon salt
1 teaspoon cumin
2 tablespoons finely chopped jalapeno
1 ½ cups slaw