Spaghetti with Mixed Seafood in Spicy Tomato Sauce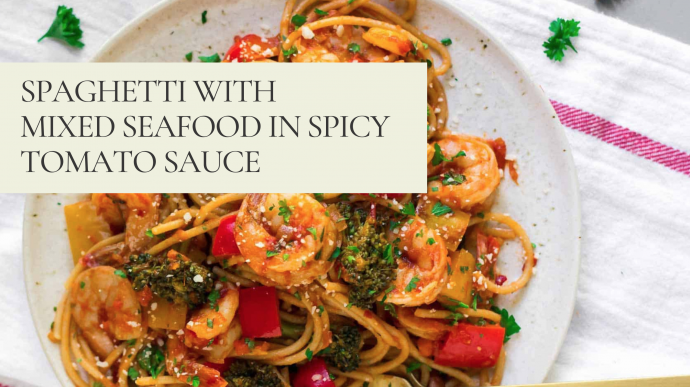 While in Italy pasta is usually served as a first course, in America we got used to eat it as our main dish. With fresh tomatoes and an enticing mix of shellfish, this summery dish is really a meal in itself, needing no more than a simple salad and some fresh fruit for dessert. Hot pepper is called for, but you can decide how spicy you want to make it.
Ingredients
1 ½ pounds mussels (675 g)
1 pound small hard-shell clams (450 g)
1 pound squid, cleaned, thinly sliced (290 g)
10 ounces extra-large shrimp, peeled, with shells reserved (250 g)
1 small onion
2 cloves of garlic, peeled
Dried hot red pepper flakes
1/3 cup plus 2 tablespoons olive oil (110 ml)
2 ½ pounds ripe firm tomatoes, peeled, seeded, coarsely chopped, and drained in a colander (1.125 kg)
Salt and freshly ground black pepper
1 pound spaghetti (450 g)
2 tablespoons chopped parsley
Directions
Step1
Remove the mussels' beards, scraping with a knife, and scrub the shells well. Rinse the mussels under cold water. Scrub the clams well and rinse 2 or 3 times in cold water. Soak in cold salted water until needed. Rinse and drain the squid.
Step 2
Put the mussels and clams, along with the reserved shrimp shells, in a large flameproof casserole. Cover and cook over high heat, shaking the pan and stirring the shellfish up from bottom to top once or twice, until the shells open, 4 to 5 minutes.
Step 3
As soon as the shells open, use a strainer or slotted spoon to transfer the mussels and clams to a colander set over a bowl to catch the juices.
Step 4
Discard the shrimp shells and any shellfish that do not open. Shuck the mussels and clams, keeping them separate. Rinse the shucked clams in the shellfish liquid in the pot to remove any remaining sand. Strain the liquid through a double layer of cheese-cloth and reserve.
Step 5
Finely chop together the onion, garlic, and red pepper.
Step 6
Heat the olive oil in a clean large flameproof casserole. Cook over moderately high heat, stirring often, until the onion softens, 3 to 4 minutes.
Step 7
Add the tomatoes and season with salt and a generous amount of black pepper. Cook for another 5 minutes, stirring occasionally. Add the squid and reduce the heat to low. Simmer uncovered for 15 minutes. If the sauce seems dry, stir in a few tablespoons of the reserved shellfish liquid.
Step 8
Add the mussels, clams, and shrimp. Cook until the shrimp are pink and curled, 2 to 3 minutes. Stir in as much of the remaining liquid as needed to make a thick sauce.
Step 9
Cook the spaghetti in a large pot of boiling salted water until it is al dente. Drain and immediately add to the casserole with the shellfish and sauce. Toss to mix well, transfer to a warmed serving platter, garnish with parsley, and serve.
Bon Appétit!