Bacon and Goat Cheese Popovers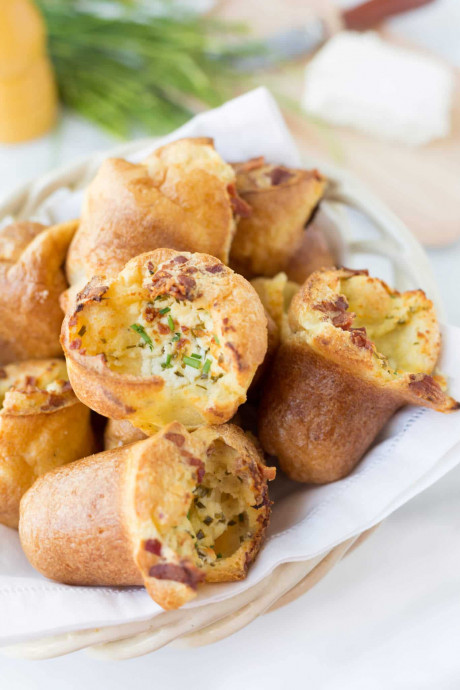 Light-textured and full-flavored, this recipe for Popovers with Bacon and Goat Cheese is the perfect addition to any bread basket. They're easy to make, too! When I think of spring, popovers immediately come to mind. Something about their puffed, crisp shells and tender, airy interiors fits so well with the lighter feel of the season.
We'd always eat the warm rolls with butter and honey. Over the years, I've experimented with seasonal popovers recipe variations, and decided to pair them with one of my favorite ingredients for spring: goat cheese. In these savory beauties, traditional popover batter meets salty bacon crumbles, creamy goat cheese, snipped fresh chives, and a hint of black pepper. Light-textured, full-flavored, and easy to make, this Popovers Recipe with Goat Cheese and Bacon is perfect for any time of day: breakfast, brunch, lunch, or dinner!
Ingredients:
1 cup milk , room temperature
3 strips bacon , cooked crisp and crumbled
1 tablespoon chopped fresh chives
3 ounces goat cheese
1 tablespoon unsalted butter , melted and cooled slightly
1/2 teaspoon freshly-ground black pepper
3/4 teaspoon kosher salt
1 cup all-purpose flour
2 large eggs , room temperature
cooking spray , for greasing pans