Gingery Gingerbread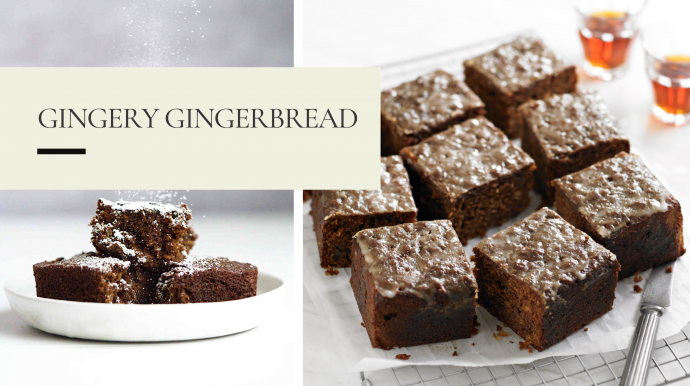 I am completely obsessed with this nicely spiced gingerbread at the moment, I love ginger overload like this – warm, spicy and sweet – just the perfect slice to have with a good cup of strong coffee, all year round! You may serve it to your friends if you're entertaining, or if they've simply popped round for a cup of tea. It also makes for a brilliant gift for your friends, if you're struggling with present ideas. You can serve it up as a dessert with vanilla ice cream, fresh fruits, or some single cream if you like, for a real treat!
Ingredients
½ cup (1 stick) butter, plus a little extra for the pan
3 cups unbleached all-purpose flour
2 teaspoons baking soda
1½ teaspoons baking powder
½ teaspoon salt
2 teaspoons cinnamon
1 tablespoon powdered ginger
½ teaspoon ground cloves
3 tablespoons (3 to 4 ounces) grated fresh ginger
2/3 cup (packed) brown sugar
¾ cup molasses
2 large eggs
2 teaspoons pure vanilla extract
1½ cups buttermilk
Directions
Step 1
Preheat the oven to 350°F (325°F if you're using a glass pan). Lightly grease the bottom and corners of a 9-by 13-inch pan. No need to grease the sides.
Step 2
About an hour ahead of time, unwrap the butter and place it in a large bowl. Use a table knife to cut it into 1-inch pieces, and let it stand at room temperature to soften.
Step 3
Combine the flour, baking soda, baking powder, salt, cinnamon, powdered ginger, and cloves in a medium-sized bowl. Whisk slowly to blend, and then stir in the grated fresh ginger, whisking until it's distributed. Set aside.
Step 4
Crumble the brown sugar into the bowl with the softened butter. Use a handheld electric mixer at high speed (or if you don't have one, use a whisk, with enthusiasm) to beat the butter and sugar together until light and fluffy. Add the molasses and then the eggs, one at a time, beating well after each addition. Use a spatula to scrape the sides of the bowl a few times during this process. Add the vanilla extract, and continue to beat for another minute or two, until everything is well combined.
Step 5
Add about a third of the flour mixture to the butter mixture, slowly whisking just enough to mostly blend. Then pour in approximately a third of the buttermilk, and stir it in. Continue with another third of the flour mixture, and another third of the buttermilk. Then repeat with the remaining flour mixture and buttermilk. As you do this, switch to stirring with a spoon when the batter thickens, and mix from the bottom of the bowl after each addition—just enough to thoroughly blend without overmixing. It's okay if the finished batter is not completely smooth.
Step 6
Transfer the batter to the prepared pan, taking care to scrape all of it in with a spatula. Then use the spatula to spread the batter evenly. Bake for 35 to 40 minutes, or until the top is springy to the touch or a toothpick inserted all the way into the center comes out clean.
Step 7
Remove the pan from the oven and allow the gingerbread to cool in the pan for at least 15 minutes before cutting it into 24 rectangular pieces. You can serve it up as a dessert with vanilla ice cream, fresh fruits, caramel sauce, or some single cream if you like, for a real treat!
Bon Appétit!