Easy Spinach Quiche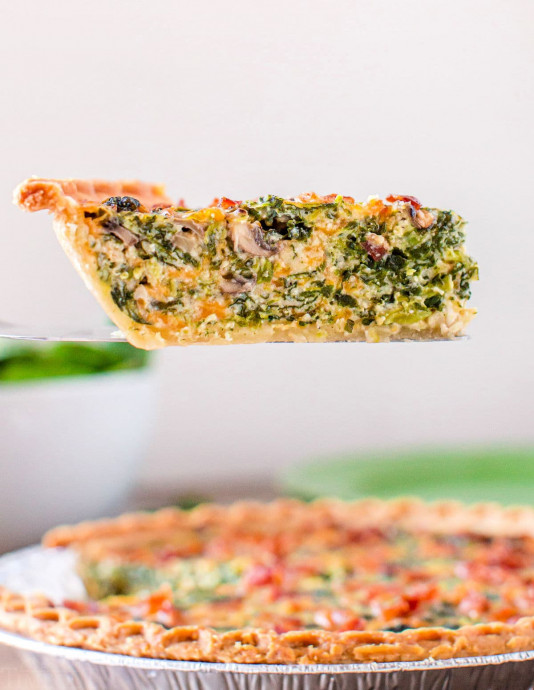 You're going to love this cheesy Spinach Quiche! The ultra-creamy filling is perfectly complemented by the flaky crust. It's the perfect addition to your brunch menu!
This Spinach Quiche recipe is made with mushrooms and bacon but can be made without either if you prefer. It's deliciously cheesy and so easy to make! Perfect for brunch or an easy lunch, it's wonderfully delectable. You're going to love the combination of creamy, cheesy spinach filling combined with a flaky pie crust. There is nothing better than a quiche! It is incredibly versatile – perfect for breakfast, brunch, lunch, dinner, and anything in between. It can be served warm or cold which makes it ideal for holidays since it can be made in advance.
This bacon spinach quiche recipe is one of my favorites and I know you'll love it too! I don't know about you, but those little quiches at parties always make me salivate. Now you can have your own Spinach Mushroom Quiche from the comfort of your own home. This spinach mushroom quiche recipe is so quick to pull together thanks to a pretty short list of ingredients. You may omit the mushrooms or bacon! Both or either. You can also check out my variations below and substitute other ingredients if you prefer.
Ingredients:
1 pie crust refrigerated, frozen, or homemade
6 ounces bacon
10 ounces frozen chopped spinach thawed
3 eggs
1 cup evaporated milk or half and half, whole milk, or part heavy cream
½ cup ricotta cheese
2 ½ tablespoons all-purpose flour
1 teaspoon garlic powder
½ teaspoon onion powder
½ teaspoon salt
¼ teaspoon ground pepper
2 cups sharp cheddar cheese grated
1 cup mushrooms sliced
1 to 2 teaspoons extra virgin olive oil