Pistachio Crusted Baked Salmon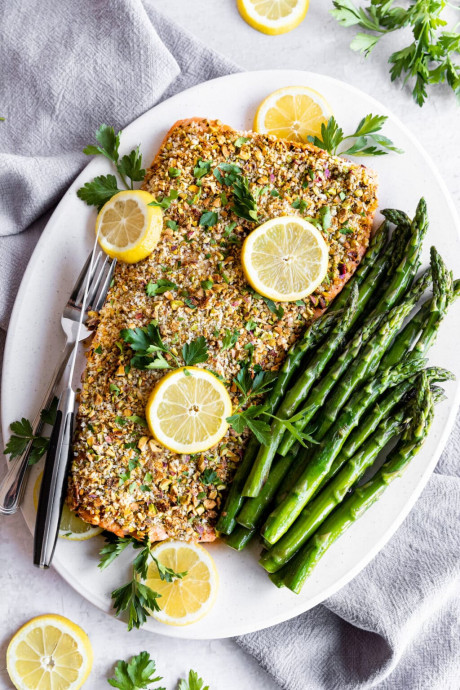 Baked Salmon with a simple pistachio parmesan crust can be on the dinner table in under 30 minutes. This salmon recipe is easy enough for a quick weeknight dinner or impressive enough to serve at a dinner party. If you are looking for a healthy and delicious dinner that can be on the dinner table in under 30 minutes, you have to make this Pistachio Crusted Baked Salmon. It is light, fresh, and has so much flavor.
The salmon has a lemon Dijon sauce that has a touch of garlic and is sweetened with a little honey. Then, it gets coated in a pistachio panko parmesan topping that creates the most amazing crust on the flaky, tender salmon. Drizzle the lemon honey mixture evenly over the salmon. Serve with roasted asparagus or a simple green salad and you have a restaurant quality meal in no time! Your family and friends will be so impressed! The salmon is best the day it is made, but you can enjoy leftover salmon too. Let the salmon cool completely and place it in an airtight container and keep it in the refrigerator for up to 2 days. You can reheat the salmon in the microwave, a preheated 300 degree F oven, or an air fryer for a few minutes.
Ingredients:
1 1/2 pound whole salmon fillet, skin on
Kosher salt and freshly ground black pepper
1 tablespoon fresh lemon juice
2 teaspoons olive oil
2 teaspoons honey
1 teaspoon Dijon mustard
1 clove fresh garlic, minced
1/4 cup panko
1/3 cup crushed pistachios
2 tablespoons freshly grated Parmesan cheese
Zest of 1 lemon
Lemon wedges for serving, optional