Easy Chicken Paprikash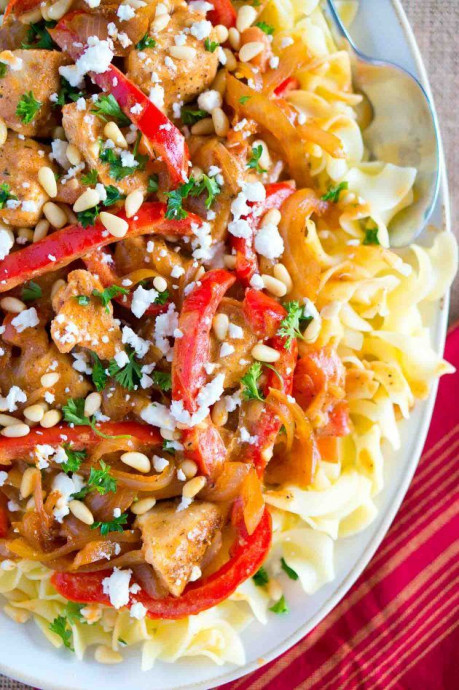 This comforting Chicken Paprikash will fill you up and keep you warm on a cold and rainy day. Chicken Paprikash is a Hungarian dish but it's also very popular in Eastern Europe. Some European countries have their own version of the Hungarian chicken Paprikash or Paprika Chicken. Growing up in Eastern Europe, I remember my grandmother cooked a similar dish with lots of peppers and onions. It was my favorite, especially topped with lots of crumbled feta cheese. I could eat it every week and I was so happy when she cooked this meal – it made my heart sing.
This easy chicken paprikash is made with chicken, peppers, onions, garlic, stock, sour cream, and of course paprika. It is important to use fresh, high-quality paprika for this recipe. I recommend sweet Hungarian paprika available on Amazon or at Penzys online. If you enjoy spicy food, you could try replacing 1 tsp of the paprika with hot Hungarian paprika. Paprika can go flat or tasteless if it is too old. So check your paprika first, before starting this dish.
This Hungarian chicken paprikash is very easy and quick to make. It is made with just a handful of ingredients, and it takes about 30 minutes to make from start to finish. I love simple yet delicious recipes! And this one is a winner. The chicken paprikash sauce is absolutely amazing!
Ingredients:
1.5 lbs chicken breasts, cut into 1-inch cubes
salt and freshly ground black pepper
2 Tbsp sweet Hungarian paprika, plus extra for seasoning the chicken
1 Tbsp extra virgin olive oil
1 large onion, thinly sliced
1 large red bell pepper, thinly sliced
4 cloves garlic, minced
1 cup chicken stock
1/2 cup sour cream
6 oz egg noodles
feta cheese
pine nuts, optional