Greek Avocado Chicken Salad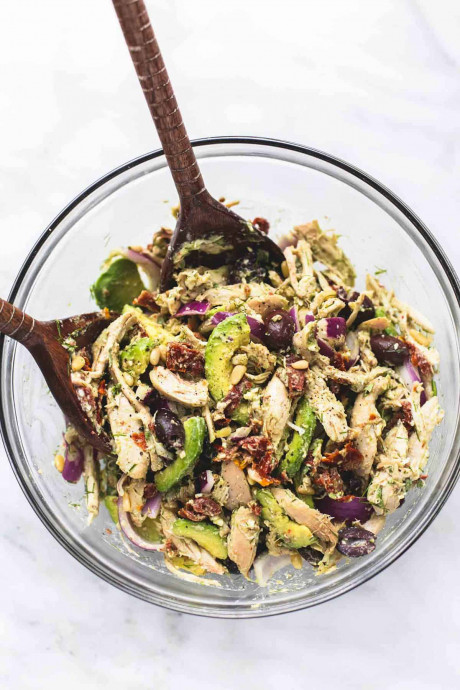 This easy-and-healthy Greek avocado chicken salad is chock-full of hearty and flavorful ingredients like sun dried tomatoes, olives, onions, avocado, feta cheese, and a creamy herb dressing that is to die for.
This salad is everything. It's absolutely loaded with so many of my favorite ingredients and then tossed in a light-and-creamy lemon-and-herb Greek-inspired dressing that has me wanting to lick the bowl clean.
I've made this Greek salad multiple times in the last couple of weeks because I just can't get enough! It's creamy, but not too heavy. And, if you end up with any leftovers, thank your lucky stars and pop the rest of that goodness in the fridge overnight (making sure to cover it tightly so the avocados don't brown) because this Greek chicken salad is just as good (if not better) for lunch leftovers!
Ingredients:
2-4 cups shredded chicken
1 avocado - sliced
½ red onion - sliced
½ cup halved kalamata olives
1 12-ounce jar julienned sun dried tomatoes packed in oil - drained and gently rinsed
⅓ cup crumbled feta cheese
¼ cup pine nuts - (toasted, optional)
Dressing
⅓ cup olive oil - extra virgin recommended
½ cup plain Greek yogurt - I use 0% fat
¼ cup reduced fat mayo - may sub extra Greek yogurt
½ teaspoon salt - or to taste
¼ teaspoon black pepper - or to taste
½ teaspoon garlic powder
1 teaspoon dried dill - or ¼ cup chopped fresh dill
½ teaspoon sugar
1 tablespoon vinegar - white wine vinegar recomended
juice of ½ lemon