No Bake Blackberry Cheesecake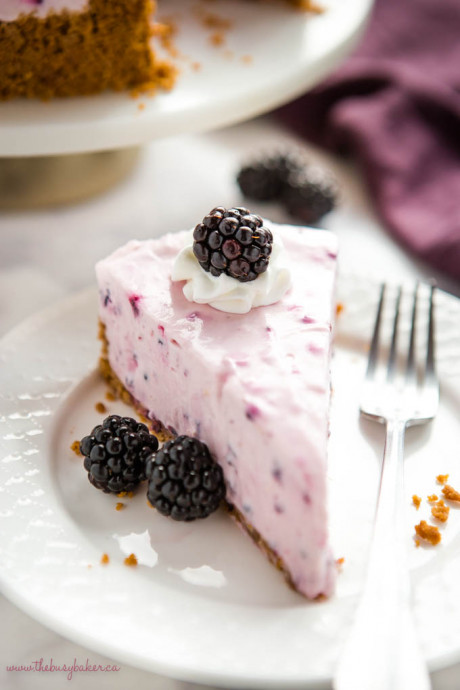 This No Bake Blackberry Cheesecake is the perfect easy-to-make cheesecake dessert that's ultra creamy, silky smooth & delicious and packed with fresh juicy blackberries! We're in the middle of berry season and as far as we're concerned it's the most wonderful time of the year! We've shared SO many of our favourite berry recipes with you already, but this No Bake Blackberry Cheesecake recipe takes the cake!
It's SO cool and creamy, and it's absolutely packed with juicy fresh blackberries – if you're a fan of blackberries even a little bit, you're going to LOVE this delicious cheesecake! This No Bake Blackberry Cheesecake recipe contains a secret ingredient that helps no bake cheesecakes set – lemon juice! The acid in the lemon reacts with the proteins in the milk, causing it to curdle and become thick. In no bake cheesecakes containing dairy cream cheese this little scientific fact works to our advantage, helping the cheesecake to become thick and sturdy and slice more cleanly than a cheesecake made without the addition of lemon juice!
Ingredients:
1 1/2 cups graham cracker crumbs
5 tablespoons melted butter
900 grams full fat cream cheese (about 32 ounces)
1 1/4 cup powdered sugar
zest of 1 lemon
juice of 1/2 lemon
1 1/2 cup whipped cream or whipped topping
1 cup blackberries mashed
whipped topping or whipped cream, and fresh blackberries