Apple Coffee Cake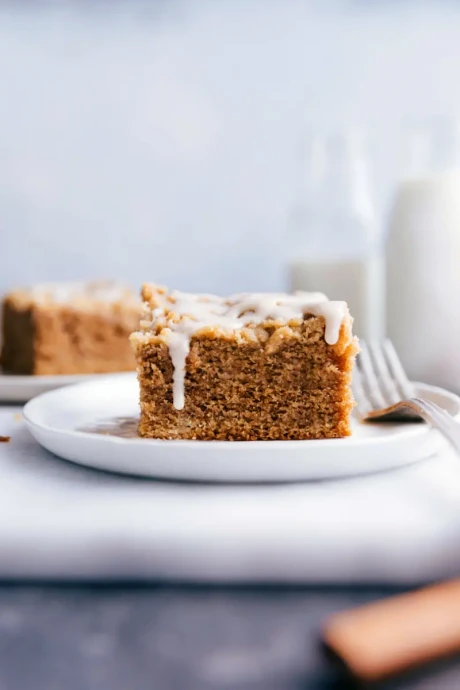 Enjoy this moist and sweet Apple Coffee Cake with a brown sugar streusel and an apple cider glaze. The best fall breakfast or dessert!
Apple Coffee Cake is my new excuse to have cake for breakfast as many fall mornings as I can; anyone with me?!
I say it every year, but fall time is my absolute favorite time of the year, and I'm so excited for all the fun apple and pumpkin recipes I'll be sharing this season. Starting with a favorite — this very coffee cake. A lot of the ingredients for this recipe overlap from cake to streusel to the glaze. One of those ingredients is apple pie spice. Apple pie spice is a mixture that combines cinnamon, nutmeg, cardamom, allspice, and cloves to create a comforting blend that can be used in so many recipes!
I have a homemade apple pie spice recipe, or you can buy it in the grocery store. You'll find it with all the other spices in the grocery store; sometimes it's on baking displays during the fall months.
Apple Coffee Cake is packed with flavor. It's dense and moist and rich as a good coffee cake should be! The streusel topping is crisp and sweet, and the glaze is bursting with apple flavor.
Ingredients:
Coffee Cake
3 cups (370g) white, all-purpose flour
1 tablespoon ground cinnamon
2 teaspoons apple pie spice
1/4 teaspoon ground nutmeg
1 and 1/2 teaspoons baking soda
3/4 teaspoon EACH: fine sea salt and baking powder
3/4 cup (144g) vegetable oil or canola oil
3/4 cup (150g) packed dark brown sugar (light brown works, dark makes for richer flavor)
1/4 cup + 2 tablespoons (108g) pure maple syrup
1/4 cup + 2 tablespoons (83g) heavy cream
1 and 1/2 teaspoons pure vanilla extract
1 and 1/2 cups (355g) sweetened applesauce
Streusel
1 and 1/4 cups (123g) white all-purpose flour, divided
3/4 cup + 2 tablespoons (150g) light brown sugar, packed
1 teaspoon ground cinnamon
1/2 teaspoon apple pie spice
1/4 teaspoon fine sea salt
1/2 cup (113g) unsalted butter, melted and cooled
Glaze
1 cup (106g) powdered sugar
1-2 tablespoons apple cider
tiny pinch fine sea salt
1/4 teaspoon pure vanilla extract
1/4 teaspoon apple pie spice