Creamy Zucchini Sauce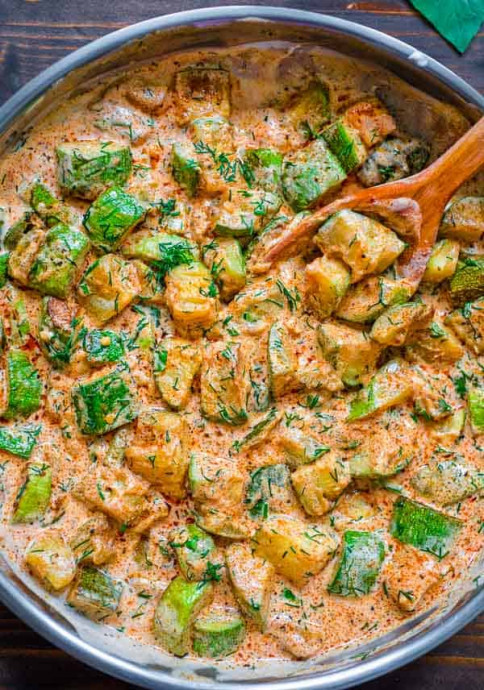 This Creamy Zucchini Sauce is bursting with flavor! Made with paprika-roasted zucchinis, sour cream, garlic, and fresh herbs, it tastes great with pasta, over rice, or just with a slice of bread.
It's zucchini season and you've got to try this recipe! Fresh, flavorful, and so versatile, this Zucchini Sauce pairs well with pasta, quinoa, rice, and many other grains. If you are looking for a filling and tasty vegetarian lunch/dinner, you've come to the right place!
And on top of that, this sauce is very easy to make. Just mix the zucchini with oil and spices and place it in the oven. While the zucchini is baking, you can whip up the sauce. Mix the sauce with the zucchini and VOILA! Your Creamy-Dreamy Zucchini Sauce is ready.
Ingredients:
For Zucchini:
2 lbs. zucchini cubed
3 tbsp. olive oil
1 tbsp. paprika
salt and pepper to taste
For the Sauce:
1 cup sour cream
2 garlic cloves minced
1 tbsp. tomato paste
2 tbsp. chopped dill
2 tbsp. chopped basil
salt to taste