Baked Brie in Puff Pastry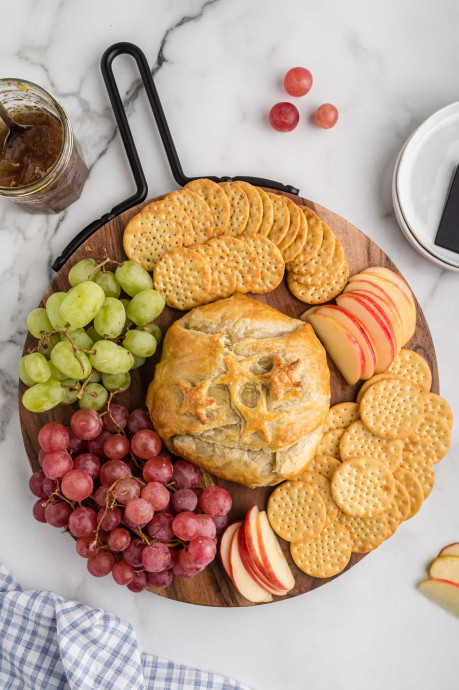 Brie wrapped in puff pastry is a flaky, buttery, warm cheese appetizer perfect for holidays and parties. It's so easy to make with just four ingredients! Serve this baked brie in puff pastry with crackers and fruit for an elegant and delicious easy appetizer.
Sometimes the best things are the simplest things and baked brie one of them. It looks fancy, tastes amazing, and is so easy you can have it ready in 30 minutes.
It's what I like to make at least once when the holiday season rolls around – that golden and flaky pastry with the warm cheese oozing out says Thanksgiving appetizer, Christmas party snack, or a cozy night-in for New Year's Eve. And, hey, it's winter now and we're all wearing our bulky sweaters. We can treat ourselves and make this baked brie, am I right?
There are a lot of options for the preserves. If you don't want to use fig, try apricot jam, cranberry, raspberry jam, strawberry… you could even use leftover cranberry sauce – feel free to experiment. You can leave the preserves out, but the bright flavor balances the richness of the cheese.
The egg wash helps brown the pastry so it turns lightly crispy on top.
Ingredients:
1 frozen puff pastry sheet, thawed
1 (8-oz) round Brie cheese (you don't need to remove the rind)
¼ cup fig preserves (see note)
1 egg, lightly beaten