Sheet Pan Philly Cheesesteak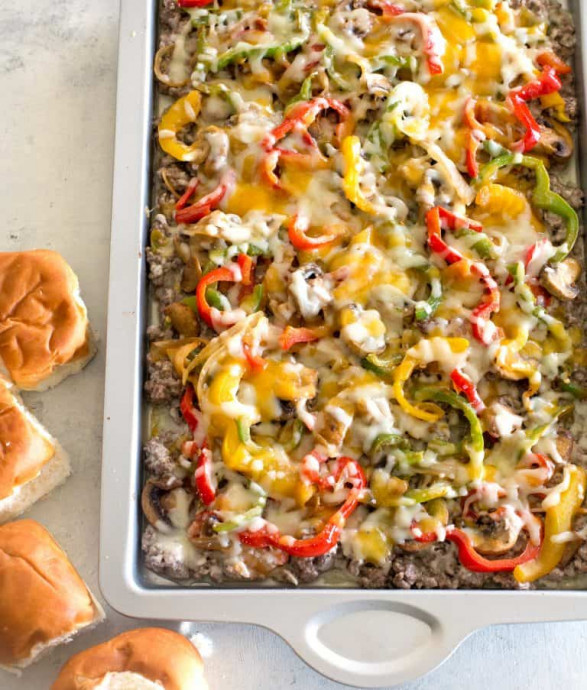 Sheet Pan Philly Cheesesteak is a one-pan, sheet pan dinner recipe. Made from simple ingredients like ground beef, onions, peppers, and cheese. This version is made from what I usually have on hand which is ground beef. Make sure you eat it on buttered and toasted rolls to get the full experience.
Ingredients are simple! Ground beef – traditional philly cheesesteaks are with shaved beef but who has that on hand. Ground beef is a much more convenient option, bell peppers – I love the colors of red, yellow, orange, and green but you can use any color, onions – sweet yellow onion is what I like. Mushrooms – white buttom mushrooms are what I use here. Cream cheese, steak seasoning, Provolone cheese – you can use mozarella in a pinch, toasted rolls – the ultimate experience is on buttered and toasted rolls with mayo and some garlic salt.
Ingredients:
1.5 lbs lean ground beef
6 ounces cream cheese (softened)
2 teaspoons steak seasoning
2 teaspoons Worcestershire sauce
2 Tablespoons olive oil
8 ounces sliced white button mushrooms
3 cups sliced bell peppers (green, red, or yellow)
1 cup diced onion
8 ounces sliced or shredded Provolone cheese
Sliced rolls for serving
butter and garlic salt for rolls
Mayonnaise for rolls