Zucchini Soup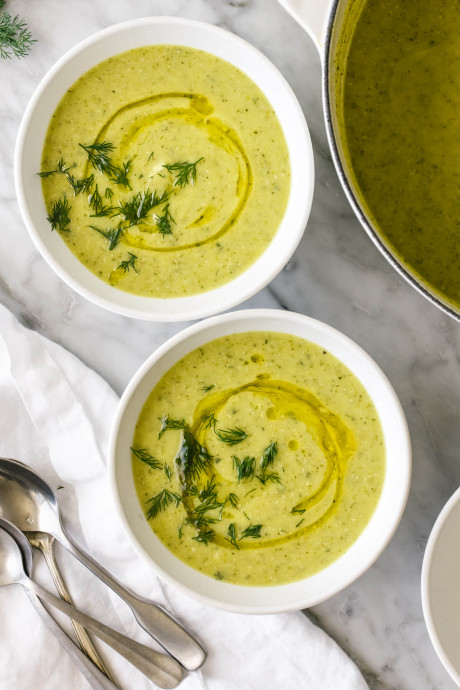 This zucchini soup is a refreshing addition to your summertime table. It's light, fresh, perfectly creamy (with no dairy), and a delicious way to enjoy the best of zucchini season!
When it's zucchini season, it's pretty much a requirement to make zucchini soup. Zucchini is of course the star ingredient here, but the punch of onion, garlic, lemon, and herbs are what really makes this soup so good. And when you add cashews into the mix – ooooh boy does it become deliciously creamy.
I've made my fair share of blended veggie soups (hello Vitamix soups), but this zucchini soup is a personal favorite. So if you've got a bounty of zucchini happening in your fridge, this beautifully pureed soup should be next on your list of zucchini recipes to whip up.
Ingredients:
2 tablespoon olive oil
1 small onion, finely chopped
2 garlic cloves, minced
4 medium zucchini (1 ½ to 2 pounds), skin on, ends trimmed, halved lengthwise, and sliced
3 cups vegetable or chicken broth, or more as desired for a thinner texture
¼ cup raw cashews
1 teaspoon kosher salt
¼ teaspoon ground black pepper
2 tablespoons fresh lemon juice
2 tablespoons chopped fresh herbs (dill, basil, or parsley work great), plus more for garnish