Vegan: White Bean Chili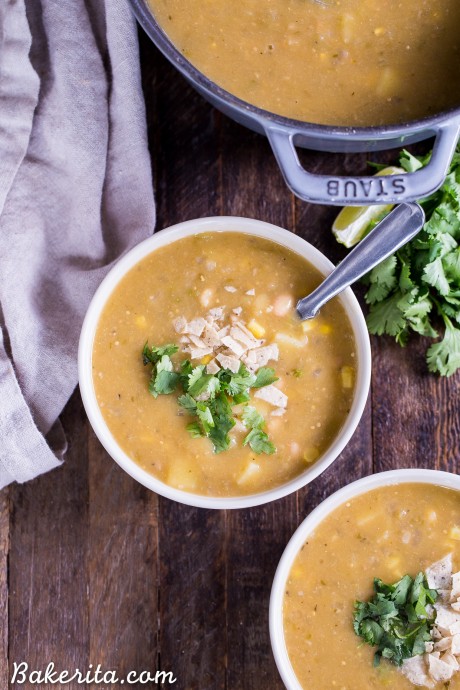 This healthy Vegan White Bean Chili is so hearty and filling, even the carnivores will be asking for more! This creamy chili is gluten-free and dairy-free, and it's loaded with green chiles, potatoes, corn, white beans, and just the right amount of kick.
The white bean vegan chili comes together in about 45 minutes and most of that is hands-off time to let the chili simmer (with the occasional stir to make sure nothing sticks to the bottom). In that time, the soup simmers and thickens, and the flavors meld deliciously. Once it's done, you've got an ultra thick and hearty chili.
You could also make it in the slow cooker. Just saute the aromatics before transferring it all to the slow cooker with the rest of the ingredients to cook all day. Here are some chili topping ideas to make it even better: fresh herbs, like cilantro, lime juice, crumbled tortilla chips, vegan sour cream, avocado. The hearty beans, potatoes, and corn in this White Bean Vegan Chili will keep you satiated all day, while the green chiles and salsa verde make every bite a burst of tart, complex flavor. I hope you love it as much as I do! Enjoy!
Ingredients:
2 tablespoons olive oil
1 small white onion diced
½ jalapeño pepper seeded and minced (you can use the whole pepper for a spicier chili)
3 garlic cloves minced
1½ teaspoon cumin
2 tablespoons tapioca flour
1 lb. yukon gold potatoes chopped into ½" cubes
4 cups vegetable broth
2 (15 oz.) cans white beans, drained
1 cup corn kernels canned or frozen are fine
1 (12 oz.) jar salsa verde
1 (4 oz.) can green chiles
½ teaspoon kosher salt or to taste
¼ teaspoon ground black pepper
¼ teaspoon dried oregano
Cilantro, tortilla chips, avocado + lime wedges to serve