Grilled Vegetable and Jasmine Rice Salad With Herbs and Cashews Recipe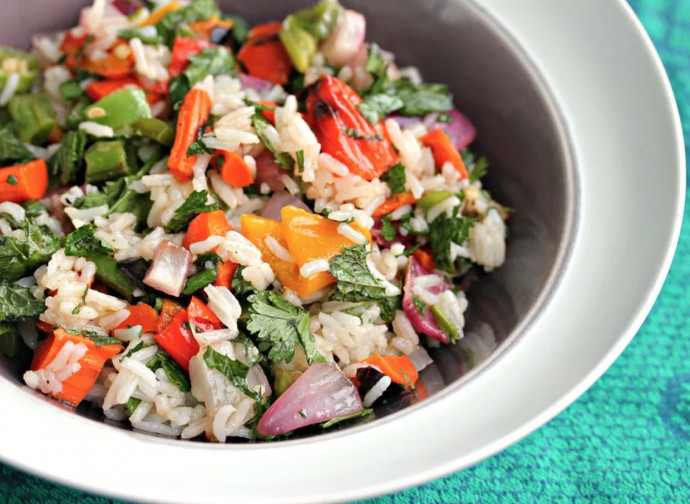 Inspired by Thai grilled beef salad (neua nam tok), this salad replaces the meat with grilled vegetables and adds fragrant jasmine rice. It's loaded with fresh herbs and dressed with a bracing, fish sauce-spiked lime vinaigrette. Plus, because the vegetables are grilled, they give the salad a deeper, smoky flavor.
Note: Do not overcook the rice. You want it to stand up to the vinaigrette without turning into a soggy mess. It's therefore best to remove it from the heat right when it loses its "bite."
Ingredients:
For the Vinaigrette:
1/2 cup fresh lime juice from about 8 to 10 limes
1 1/2 tablespoons fish sauce
1 1/2 tablespoons brown sugar
2 medium cloves garlic, minced
1 1/2 teaspoons Sriracha
2 tablespoons vegetable oil
For the Salad:
2 (3/4-inch-thick) slices from a large red onion
3 large carrots, peeled and quartered lengthwise
15 sugar-snap peas
8 whole tri-color mini bell peppers or 1 large red or yellow bell pepper, quartered
2 jalapeños
2 tablespoons vegetable oil
Kosher salt and freshly gound black pepper
1/4 cup finely chopped cilantro leaves and tender stems
1/4 cup finely chopped fresh mint
1/4 cup finely chopped Thai basil or sweet basil
2 cups cooked and cooled Jasmine rice (see note)
1/2 cup lightly toasted cashews