Easy Flan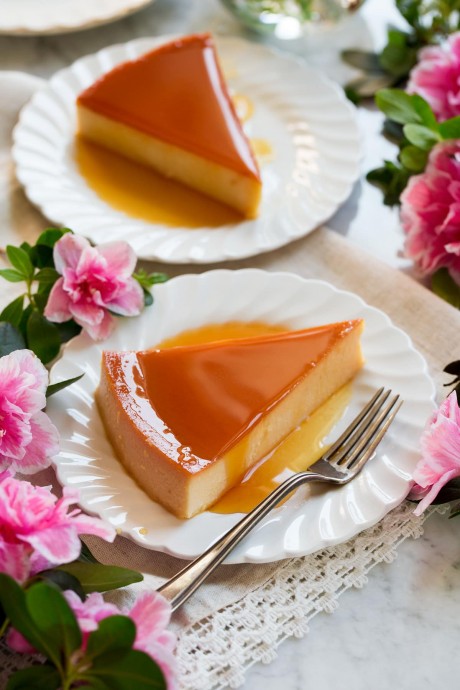 You get a rich and creamy custard style dessert covered with a deeply flavorful caramel sauce. And this version also includes luscious cream cheese to really take it over the top!
Flan is a European and Latin dessert made up of a caramel topping and custard base that's made with milk, eggs and sweetener (which may already be included in the milk). It is usually baked in a water bath for the best texture, and after baking it is chilled then later inverted onto a platter.
This version is Flan de Queso – Cream Cheese Flan. Traditional Spanish flan is so tasty but then when you add some rich and tangy cream cheese it becomes just that much better.
Other than that this homemade flan is a breeze to make! And who doesn't love a recipe that only requires 6 ingredients? Also, this recipe can be made without the cream cheese. If doing so omit the 2 Tbsp sugar from the filling, it will be plenty sweet without. Add extra flavor: Try with some cinnamon, coconut extract, citrus zest or a tablespoon of bourbon. Make pumpkin flan: Add 1 cup canned pumpkin and 2 tsp pumpkin pie spice (add along with milks). Bake time may take a little longer.
Because of all the dairy it should be stored in the refrigerator in an airtight container. It should keep in the refrigerator for up to 3 days.
Ingredients:
3/4 cup (150g) granulated sugar
1/4 cup + 1 Tbsp warm water
1 (8 oz) pkg. cream cheese, well softened
2 Tbsp granulated sugar
4 large eggs
1 (14 oz) can sweetened condensed milk
1 (12 oz) can evaporated milk
2 tsp vanilla extract