Vegan Spinach Artichoke Pasta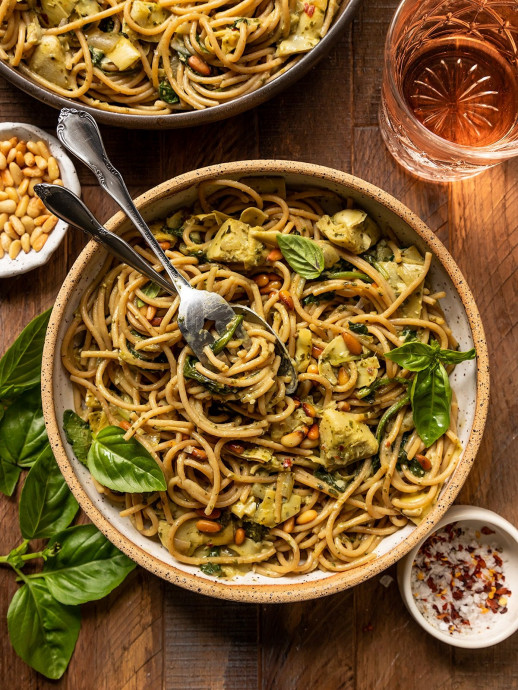 If you are a fan of spinach artichoke dip, then you are going to LOVE this 30-mimute Vegan Spinach Artichoke Pasta with a vegan basil cream sauce! Italian ingredients make this creamy artichoke pasta the best dairy-free & vegan pasta recipe.
There is something so wonderful about the combination of briny artichokes, robust spinach, and a creamy basil sauce. Like most of my vegan pasta recipes, this vegetarian spinach artichoke pasta recipe is incredibly easy to make and takes only 30 minutes to whip up!
Leftover pasta can be stored in a closed container in the fridge for 3-4 days or in the freezer for up to 1 month.
Ingredients:
Basil cream sauce:
1 ½ cup oat milk or any plant-based milk, unsweetened
1 ½ cups fresh basil packed
2 Tablespoons pine nuts
2 Tablespoons nutritional yeast
1 Tablespoon lemon juice
½ Tablespoon cornstarch
salt & pepper to taste
Pasta ingredients:
8 ounces dried pasta I used Anna organic whole wheat spaghetti
2 Tablespoons olive oil
2 cloves garlic minced
1 shallot finely chopped
2 cans cooked canned artichokes strained, rinsed, cut in half, and patted dry
½ teaspoon chili flakes
salt & pepper to taste season to your preference
5 cups spinach loosely packed
2 Tablespoons toasted pine nuts optional, as a garnish
Fresh basil optional, as garnish