Mushroom and Goat Cheese Quiche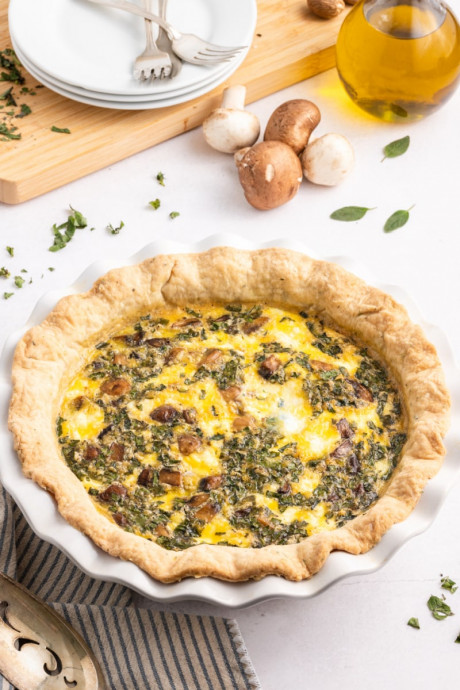 In this recipe, a mushroom and goat cheese quiche is stuffed with chunks of goat cheese and loads of mushrooms, basil and oregano and it's baked in an herbed crust.
What makes this quiche different is that it's loaded with herbs and three varieties of mushrooms. Since we're big-time mushroom lovers, it's the perfect choice for our family. If you're a mushroom lover, you'll enjoy it too!
We adore goat cheese, but I'm sure you could sub feta if you're not fond of goat. If you don't care for mushrooms, well then I'll just tell you to go find another quiche. This one is meant for mushrooms. It's a delicious quiche to make for brunch or a light dinner. Enjoy!
Ingredients:
CRUST:
⅓ cup unsalted butter, chilled
1½ cups all-purpose flour
1 teaspoon chopped fresh thyme
⅛ teaspoon salt
⅛ teaspoon freshly ground black pepper,
1½ tablespoons ice water (or more)
1 teaspoon white vinegar
FILLING:
1 teaspoon extra-virgin olive oil
¼ medium red onion, peeled & diced (about ½ cup)
1 large garlic clove, peeled and minced
4 ounces mixed mushrooms, stemmed and cut into ½-inch pieces (2 cups)
8 large eggs
6 leaves fresh basil, chopped (about 2 tablespoons)
2 teaspoons chopped fresh oregano leaves
⅛ teaspoon freshly grated nutmeg
¼ teaspoon white pepper
⅛ teaspoon freshly ground black pepper
½ teaspoon sea salt
4 ounces goat cheese, crumbled (can also use Swiss or smoked gouda)