Easy Strawberry Cobbler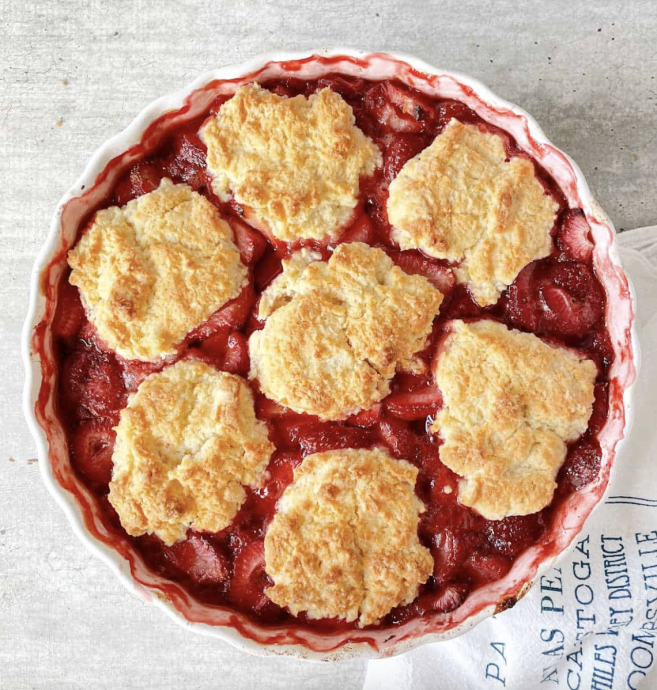 This is an easy recipe with fresh strawberries that brings out the best of seasonal fruit and involves little time in the kitchen. A cobbler means that juicy, sweet berries are topped with biscuit dough and baked until golden brown to produce a scrumptious dessert. You can also use frozen strawberries during cold months.
As far as easy berry desserts go, cobblers are one of my favorites, together with crisps and crumbles. By now, we have a great archive of fruit desserts and bakes. All delicious recipes you can make when your favorite fruit is in season.
Today I'm sharing an easy strawberry cobbler recipe that I'm sure you'll love. Easy, versatile, and so delicious!
Ingredients:
For the fruit layer:
2 pounds of fresh strawberries (or frozen, see Notes)
½ cup sugar
1 tablespoon cornstarch
1 tablespoon lemon juice
1 teaspoon orange zest
¼ teaspoon vanilla extract
For the topping:
1 ¼ cups all-purpose flour
¼ cup sugar
1 teaspoon baking powder
¼ teaspoon salt
4 tablespoons unsalted butter, melted
⅓ cup cold buttermilk
For serving (optional):
Vanilla ice cream or whipped cream
Extra fresh strawberries