Roasted Sheet Pan Chicken, Sweet Potatoes, and Broccoli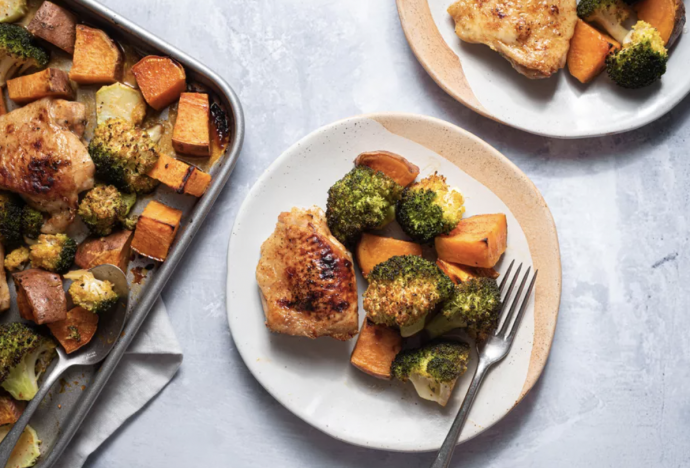 Looking for a one-pot dinner? How about a one-pan dinner? Chicken, sweet potatoes, and broccoli all roast together to make a complete meal with minimal cleanup in this sheet pan dinner. Preheating the pan allows the chicken skin to crisp up and adding the broccoli halfway through means everything will be cooked just right. A simple sauce of soy sauce, honey, and lemon add extra flavor and a little moisture to an already flavorful dish.
A large, heavy-duty sheet pan with short sides works best for this dish. You can find them at good kitchen supply stores or order them online. If you have a smaller pan and run out of room, divide the food up into two pans and rotate them when you flip the chicken and potatoes. If you're feeding an extra-hungry group, serve with a grain like quinoa or farro.
Ingredients
4 bone-in, skin-on chicken thighs, or 6 legs, or a combination
2 medium sweet potatoes, cut into 1-inch chunks
2 tablespoons canola oil, or grapeseed oil, divided
Kosher salt, to taste
Pepper, to taste
1 tablespoon soy sauce
1 tablespoon lemon juice
1 tablespoon honey
1/2 teaspoon cayenne pepper
1 large head of broccoli