Brown Sugar Garlic Oven Baked Pork Chops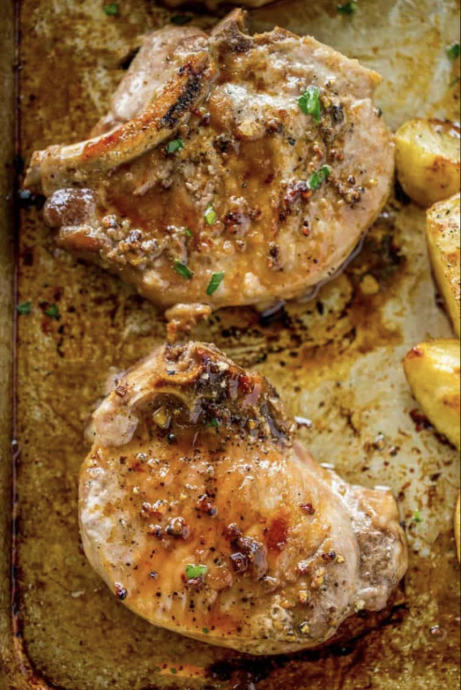 Oven Baked Pork Chops with a brown sugar garlic glaze and yukon potatoes. One pan, almost no cleanup and the whole family will love them.
Pork Chops are a family favorite Dinner Recipe, and the brown sugar glaze on these will have everyone asking for more. This recipe is the answer to about 500 emails from readers asking for pork chop versions of Brown Sugar Garlic Pork with Carrots & Potatoes and Slow Cooker Bacon Garlic Pork Loin.
Many of the most popular recipes on the site are pork recipes. While people generally grill or pan sear pork chops, this easy sheet pan meal will take the active cooking time out of this recipe. It takes just five minutes to toss the cubed yukon potatoes in oil, salt and pepper. Then season the pork chops with brown sugar and garlic. Add it all together on a sheet pan, then just bake for about 30 minutes until you have tender pork chops with yummy, crispy potatoes.
Ingredients:
2 pounds yukon gold potatoes , cut into 1 inch cubes
3 tablespoons canola oil
4 bone-in pork loin chops
2 tablespoons garlic , minced
1/2 cup brown sugar , packed
3/4 teaspoon Kosher salt , divided
1/2 teaspoon coarse ground black pepper , divided