Healthy Chicken Pot Pie Soup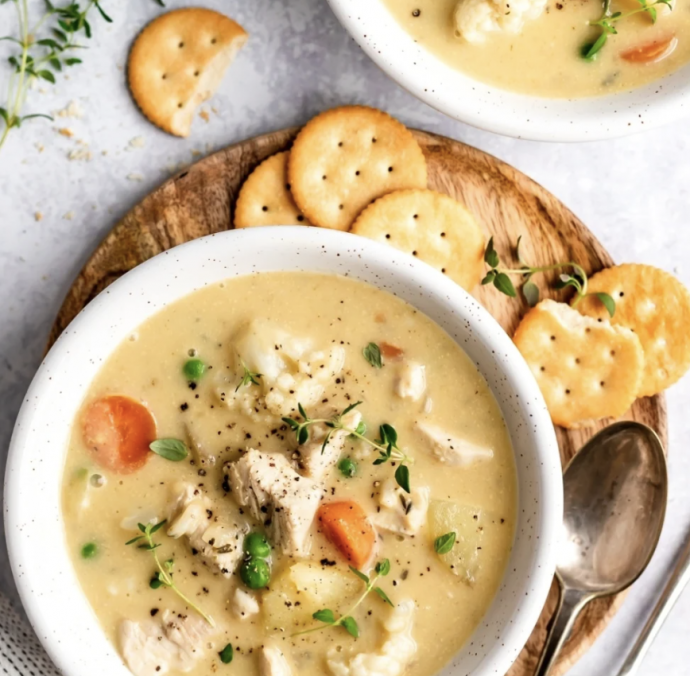 Cozy, healthy chicken pot pie soup made deliciously creamy without any dairy! Instead, cauliflower and potatoes are pureed into the broth to achieve a rich, creamy thickness. This gluten free & paleo chicken pot pie soup is loaded with veggies and is the perfect lightened-up comfort food for colder months!
This healthy chicken pot pie soup is hearty, flavorful, and super creamy without using any cream or dairy. It seriously has that true chicken pot pie flavor and is absolutely delicious served with crackers or biscuits. Comfort food at its finest! Add this to your weeknight dinner list and get ready for an incredible meal that takes just about 30 minutes to make.
Ingredients:
1 tablespoon olive oil
1 1/2 pounds uncooked boneless skinless chicken breast, diced
Freshly ground salt and pepper
1/2 tablespoon olive oil
1 white onion, chopped
2 large carrots, sliced
3 cups diced yukon gold potatoes
3 cups finely chopped cauliflower florets
1 teaspoon dried thyme (or 1 tablespoon fresh thyme)
2 cups of unsweetened almond milk, cashew milk, skim milk, 2% (if you want a richer soup, you can use whole milk)
3 cups low sodium chicken broth
1/2 teaspoon salt, plus more to taste
Freshly ground black pepper
1 cup frozen peas