Pecan Pie Bars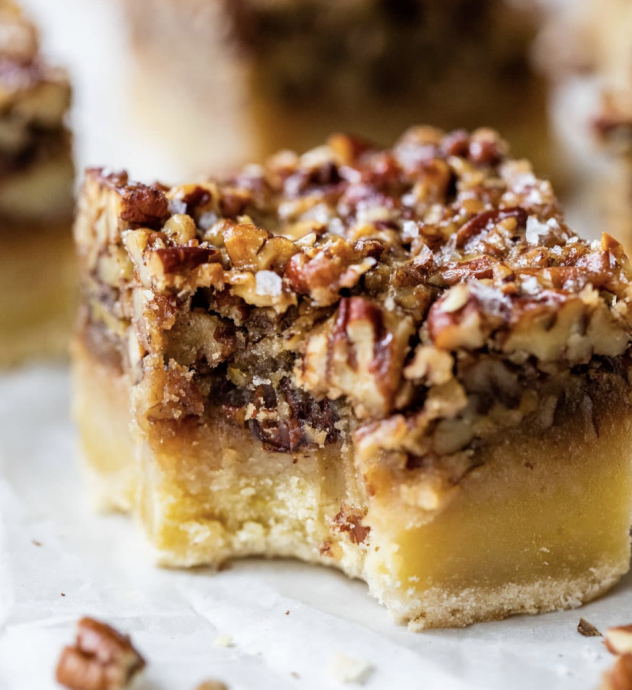 Capital W-O-W, sky-high Pecan Pie Bars: Here to impress, to win you friends (and lovers), and to be the ideal representation of the kind of sweet, buttery indulgence we all deserve, especially this time of year.
These pecan pie bars melt in your mouth.
Every time I took a bite, I couldn't believe a dessert this seemingly rich and thick could dissolve on my tongue as if by magic.
The buttery shortbread crust is tender but sturdy enough to pick up with your fingers. It tastes like a cross between my Darn Good Whole Wheat Pie Crust and the most excellent shortbread cookie.
The filling is lush with maple and brown sugar and positively chock-a-bloc with deeply toasty, crunchy pecans.
A finishing sprinkle of flaky sea salt ties the whole shebang together and saves these pecan pie bars from many a classic pecan pie's greatest transgression: being cloyingly sweet (a trick I also use in these decadent Dark Chocolate Cookies).
Whereas with traditional Thanksgiving pecan pie, I find myself barely being able to finish a bite or two, these pecan pie bars are a true danger in the best possible way.
This recipe yields a big batch.
Ingredients:
1 1/2 cups unsalted butter at room temperature (3 sticks)
1/2 cup granulated sugar
2 large eggs at room temperature
1 teaspoon pure vanilla extract
3 cups all-purpose flour
1/4 teaspoon baking powder
1/4 teaspoon kosher salt
FOR THE FILLING:
1 1/2 cups unsalted butter
2/3 cup pure maple syrup
2 1/4 cups light brown sugar or dark brown sugar
1/2 teaspoon grated lemon zest about ½ medium lemon
3 tablespoons heavy cream
1 teaspoon pure vanilla extract
1 1/4 pounds 20 ounces pecan halves, coarsely chopped
Flaky sea salt such as Maldon or fleur de sel (optional)