Keto Ham And Cheese Roll-Ups With Dijon Butter Glaze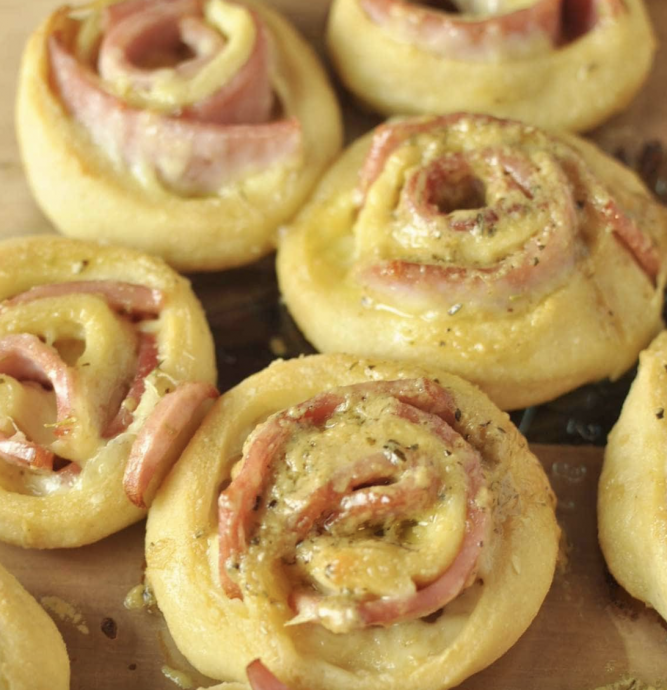 Low carb ham and cheese roll-ups. Warm, comforting roll ups made from fathead dough.
These low carb ham and cheese roll-ups are the real deal. Since they are made with a variation of fathead dough, they are low carb, gluten free and keto friendly. I've been playing with a lot of different low carb cheese dough combinations and this has to be my favorite by far. These little ham and cheese pinwheels come in at just 2 net carbs each. It almost seems too good to be true!
Ingredients:
FOR THE HOT HAM AND CHEESE ROLL-UPS
¼ cup almond flour (get it here)
3 tablespoons coconut flour (get it here)
1 teaspoon onion powder
1 teaspoon garlic powder
1 ½ cup low-moisture, part skim mozzarella cheese, shredded
4 tablespoons salted butter
2 tablespoons cream cheese
1 large egg
10 ounces sliced ham
1 ½ cups sharp white cheddar cheese, shredded
FOR THE DIJON BUTTER GLAZE
2 tablespoons salted butter
1 tablespoon Dijon mustard
1 teaspoon Worcestershire sauce
1 teaspoon garlic powder
½ teaspoon dried Italian seasoning