Black Bean Soup (Freezer Friendly)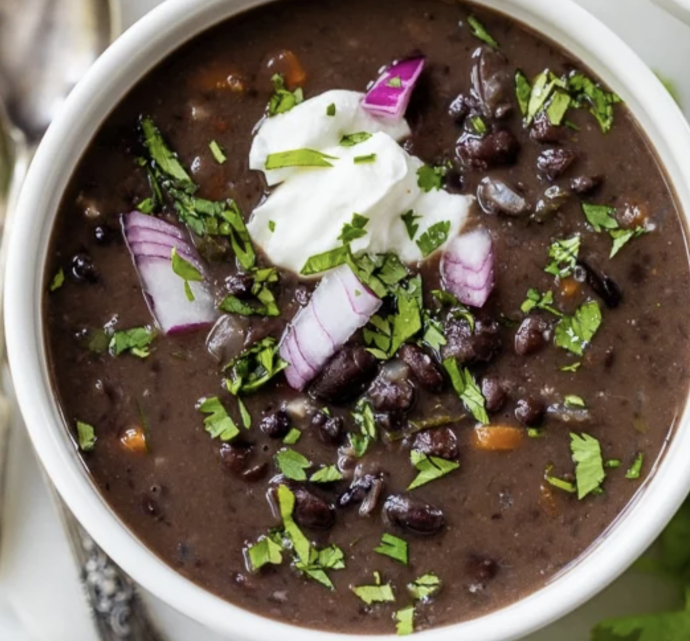 This healthy and savory black bean soup recipe with dry beans is easy to prepare, freezer-friendly, and perfect for those cold winter days.
This black bean soup recipe is perfect for meal prep. Freezing meals in individual portions to use throughout the month for lunch or dinner is a great way to save time and money. Pour the soup into quart-size freezer bags or an airtight container and freeze for up to three months. To reheat, thaw overnight and warm on the stove or in the microwave. This will last in the fridge for 5 days.
Ingredients:
For the beans:
1 pound dry black beans
1 small red bell pepper halved and seeded
1 small onion quartered
2 cloves garlic whole
3 bay leaves
For the soup:
1 tbsp olive oil
1 large onion diced
1/2 cup parsley chopped
1 red bell pepper diced
2 medium carrots diced
5 cloves garlic minced
1 tbsp red wine vinegar
1/4 cup white wine (2 ounces)
1 teaspoon cumin
1 teaspoon oregano
1 chicken bouillon cube or vegetable bullion cube
3/4 tsp kosher salt
black pepper to taste
avocado, sour cream, red onions, scallions, chives and/or cilantro for topping