Cheesy Bacon Wrapped Puff Pastry Twists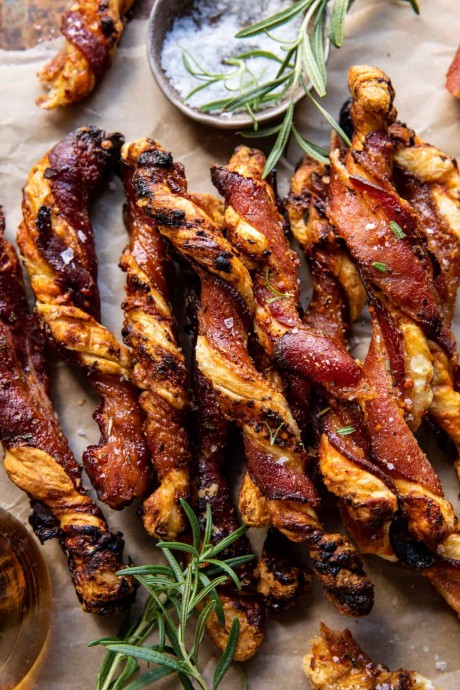 Sweet and Savory Cheesy Bacon Wrapped Puff Pastry Twists…the holiday appetizer that everyone asks for…year after year. They're quick, easy, and everyone loves these sweet and savory twists. Flaky puff pastry twisted up with cheese, wrapped in salty bacon, then tossed in a rosemary brown sugar. Bake these twists in the oven until the bacon is crisp and "candied". There never seems to be enough of these…addictive, festive, and perfect for the New Year celebrations!
These are pretty simple, and honestly, kind of fun to make. Start with a go-to holiday ingredient, a little store-bought puff pastry. Roll it out, top it with cheddar, and a pinch of cayenne pepper. Now fold the pastry in half and cut it into strips. I tried to get a few process photos for you guys so you could see more of what I'm talking about. Now twist the strips up, then wrap each strip in thin cut bacon. Using thin cut bacon is key here. It will cook more evenly and quicker. If you have thicker pieces of bacon, I would cut each in half. The secret to these twists is the sweet and savory mix of brown sugar and fresh rosemary that coats the bacon. Mix the two together, then roll the bacon twists through the sugar mix. Once baked, you'll have a cheesy pastry, wrapped in sweet candied bacon. It might seem like a rather odd combination, but trust me, it's very delicious. And also what makes these twists addictingly good.
Ingredients:
1/2 cup light or dark brown sugar
1-2 tablespoons chopped fresh rosemary, using to your taste
kosher salt and black pepper.
2 sheets (1 box) frozen puff pastry, thawed
1 egg, beaten
1 cup shredded sharp cheddar cheese (or a mix of your favorite cheeses)
1-2 teaspoons cayenne pepper (optional)
24 strips thin cut bacon, or 12 sticks of thicker bacon, halved