Crispy Fish Sandwiches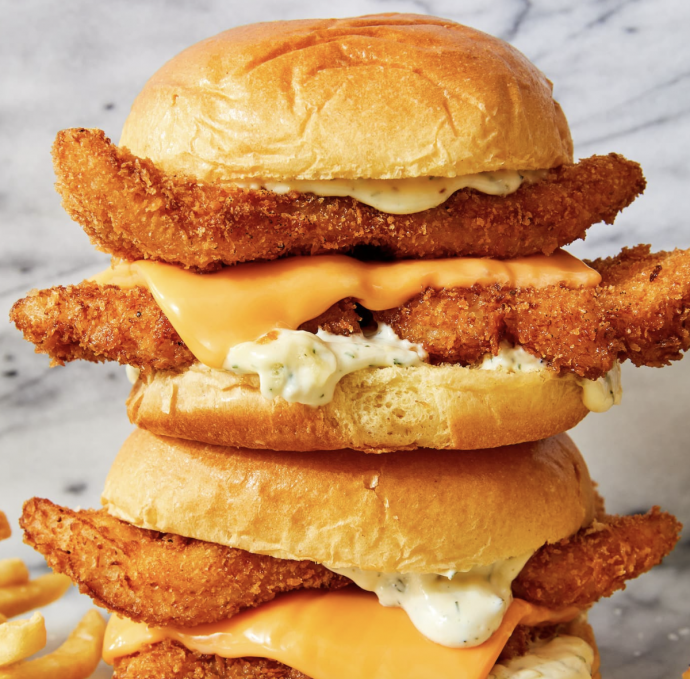 Oh-so-crisp fish sandwiches with melted cheese, soft brioche buns and homemade tartar sauce! Seriously so so good.
This right here is a classic fish sandwich. There's no frills, no fuss. All you need is a simple coating, yielding the lightest, crispiest exterior (thank you to Panko breadcrumbs), some good old fashioned American cheese slices, soft, toasted brioche buns and a homemade tartar sauce.
Ingredients:
4 orange roughy or petrale sole fish filets, each cut crosswise into 8 pieces
1 teaspoon Old Bay seasoning
Kosher salt and freshly ground black pepper, to taste
1 cup buttermilk
1 large egg
2 tablespoons hot sauce, optional
½ cup all-purpose flour
1 cup Panko*
6 cups vegetable, oil
4 brioche hamburger buns, lightly toasted
4 slices American cheese
FOR THE HOMEMADE TARTAR SAUCE
½ cup mayonnaise
3 tablespoons dill pickle relish
1 ½ tablespoons chopped fresh dill
1 teaspoon freshly squeezed lemon juice
Kosher salt and freshly ground black pepper, to taste