Cheesy Mexican beef and bean bake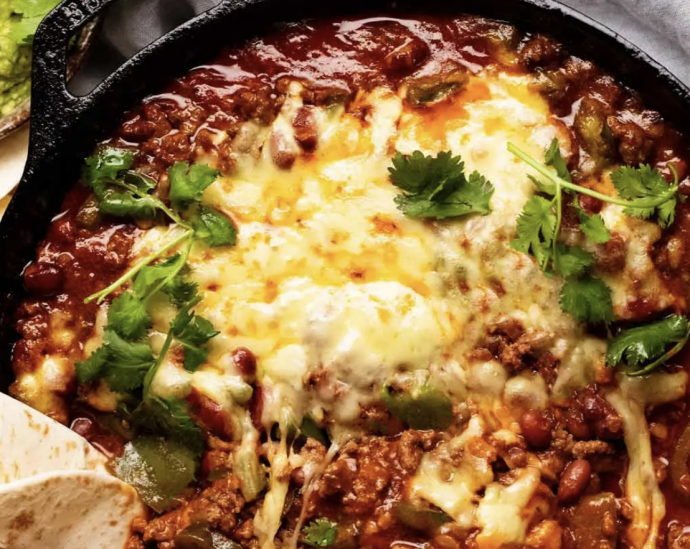 can't remember how this Mexican beef and bean dish first came to be. All I know is that when it came out of the oven in all its bubbly, melty cheesy glory, I wanted to get stuck into immediately but paralysed with indecision for how. So many options!
This is a casual, rustic dish – which means, lots of flexibility. I'm not so relaxed with substitutions for some recipes, so take it when you can! ?
Ground beef / beef mince – Or chicken, turkey or pork. Any of these would work. (Even lamb actually).
Red onion – Or ordinary brown / yellow onions.
Green capsicum (bell pepper) – Or other colour capsicum, or other sauté-able vegetables like diced zucchini/courgette, carrot, green beans (chopped), corn. Even a cup of diced mixed frozen vegetables would work here!
Red kidney beans – Or black beans (on theme with Mexican food), or any other beans of choice. Or, more vegetables.
Ingredients:
2 tbsp olive oil
1 red onion , finely chopped
2 garlic cloves , finely minced
1 green capsicum / bell pepper , cut into 1cm / 1/2″ cubes (or other colour)
500g/ 1 lb beef mince (ground beef) (Note 1)
400g/ 14oz can red kidney beans or black beans , drained (or other beans)
1 cup tomato passata (Note 2)
1/3 cup pickled sliced jalapeño (Note 3)
1 1/2 cups Colby cheese , shredded (or other cheese, Note 4)
MEXICAN SPICE MIX:
1 1/2 tsp cumin powder
1 1/2 tsp smoked paprika (sub normal paprika)
1 tsp garlic powder (sub onion powder)
1 tsp onion powder (sub garlic powder)
1 tsp dried oregano
1/2 tsp cayenne pepper (sub black pepper)
1 tsp cooking/kosher salt