Homemade Black and White Cookies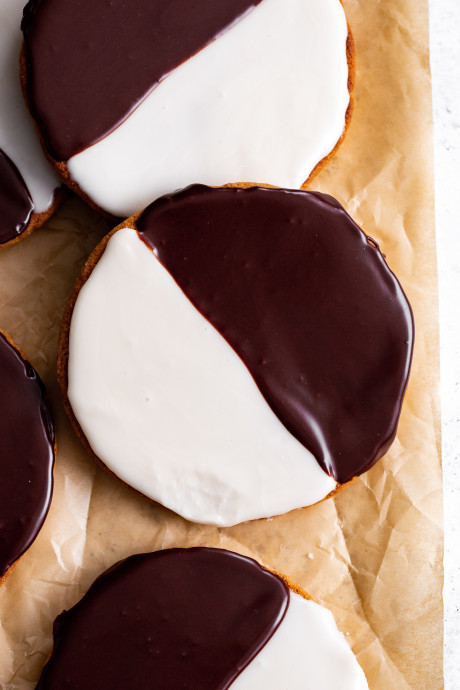 Get ready for a real treat! These homemade Black and White Cookies taste just like everyone's favorite New York City style bakery cookies – so much so that you'd never guess they're grain free! This gluten-free and grain free cookie recipe has dairy free and paleo options, so everyone can enjoy these classic cookies at home!
The cookies that are almost as good to look at as they are to eat (the excitement!) I mean, isn't there something super satisfying about just looking at the sharp contrast of the black and white thick, shiny icing? Am I the only one?
Pure happiness in a cookie. I'm not exaggerating! When I first, and then my family members, one by one, tasted my first test of these black and white cookies, it really was just that way! All 9 cookies disappeared in a day – which I know – it's too much, but I happily gave everyone a pass on these! Let's get into the recipe since I want everyone to be able to experience these big bakery style cookies ASAP.
Ingredients:
2 1/4 cups blanched almond flour
1/2 cup tapioca flour or arrowroot
3/4 tsp baking soda
1/4 tsp fine sea salt
1/2 cup grass fed butter softened or palm oil shortening or vegan butter for a dairy free option
1/2 cup pure maple sugar
1 large egg at room temperature
2 tsp pure vanilla extract
1/4 tsp lemon extract optional
white icing:
1 1/2 cup organic powdered sugar or powdered monk fruit for a paleo option
1/2 teaspoon pure vanilla extract
1 teaspoon lemon juice
1 Tablespoons + 2 teaspoons water or a few drops more, as needed
black icing:
1 1/4 cup organic powdered sugar or powdered monk fruit (for paleo), OR make your own paleo powdered sugar*
1/4 cup raw cacao powder or unsweetened cocoa powder
1 teaspoon pure vanilla extract
2 tablespoons 2 teaspoons water or a few drops more, as needed