Creamy Chicken Parmesan Pasta Soup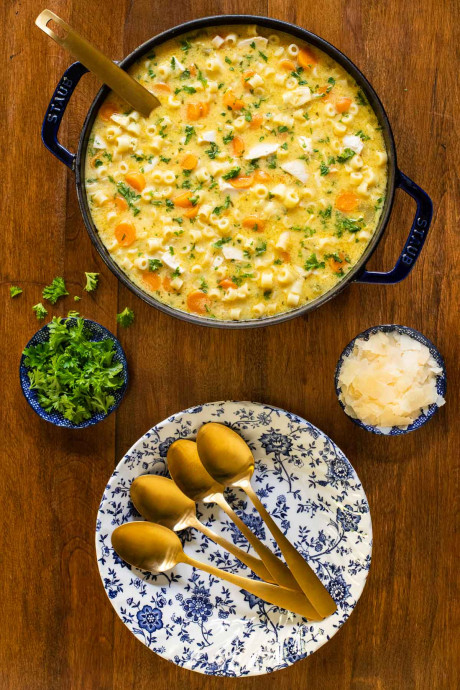 If you're looking for a creamy, delicious comfort soup that's loaded with healthy veggies lean chicken and comes together quickly, this Chicken Parmesan Pasta Soup is IT!
Something creamy, comforting and hearty, but also healthy. I wasn't sure that all those adjectives could be satisfied in one soup recipe, but I thought it was worth trying. Several renditions later, I think I've checked all the boxes and hope that you enjoy this Creamy Chicken Parmesan Pasta Soup as much as we do! To make this recipe simple and quick to put together, I decided to go with rotisserie (or leftover) chicken. The recipe also includes diced onion and celery, lots of sliced carrots, bay leaves, a pinch of both turmeric and paprika, ditalini pasta and milk. It's finished off with a generous portion of parmesan cheese and a handful of fresh herbs. The recipe comes together in less than 45 minutes, so it's perfect for busy weeknights. It also makes a nice big potful, making it wonderful for leftovers. I'm so happy, after a busy morning working on the blog or a long hike down and back up our mountain road, to look in the refrigerator and see a container of this Chicken Parmesan Pasta Soup. I love that it rewarms beautifully in the microwave!
Ingredients:
3 tablespoon butter
1 large onion finely chopped
3 stalks celery diced small
4 medium cloves garlic finely minced
3 tablespoons flour
8 cups chicken broth maybe more
12 ounces carrots peeled and sliced about ½-inch thick
2-3 medium bay leaves
¼ teaspoon turmeric
½ teaspoon sweet paprika
1 teaspoon kosher salt
1½ cups Ditalini pasta (uncooked)
2 cups whole milk
4 ounces grated Parmesan cheese (I like Parmesan Reggiano)
2½ cups shredded rotisserie chicken or leftover chicken you can also use turkey
2 teaspoons finely chopped fresh rosemary
¼ cup finely chopped fresh parsley more for garnish