The Most Epic Grilled Fish Tacos with Mango Salsa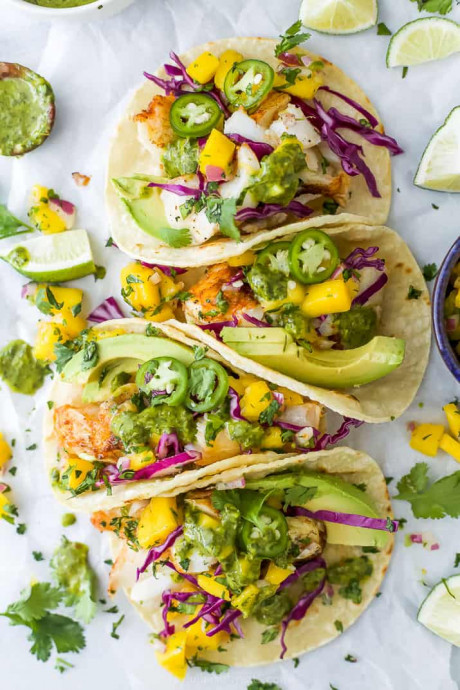 The Best Grilled Fish Tacos topped with fresh mango salsa, chimichurri sauce, avocado and cabbage. Every bite explodes with flavor, these are the best fish tacos you'll ever try! Taco Tuesday will never be the same again.
The tender, flaky fish used in this recipe all but melts in your mouth. Between the salsa, chimichurri and seasoned fish, every bite bursts with flavor that is sweet, spicy and savory all in one. (Of course, if you don't like spice, you can easily adjust that!)
While the fish itself is tasty, the real flavor lies in the mango salsa and chimichurri toppings, which are both made from scratch with fresh ingredients. I love making this grilled fish tacos in the summer months, when I'd rather be cooking outside than inside and I can get all the ingredients needed for the salsa at the market.
And, by the way, even though there's a lot going on in this recipe, it still all comes together in just 30 minutes!
Ingredients:
Grilled Fish:
1.5 lbs. cod filet
1 teaspoon cumin
1 teaspoon garlic powder
1 teaspoon smoked paprika
1/4 teaspoon ancho chili powder
1/2 teaspoons salt
2 tablespoons of olive oil
Mango Salsa:
1 1/2 cups fresh mango, diced
1/4 cup diced red onion
1/4 cup diced fresh cilantro
1 tablespoon diced jalapeno
1 tablespoon fresh lime juice
salt to taste
Tacos:
1 cup thinly sliced purple cabbage
12 corn tortillas
2 avocados, sliced
Chimichurri:
3/4 cup fresh cilantro
1/4 cup fresh oregano
1 garlic clove
1 teaspoon red pepper flakes
1/4 teaspoon cumin
2 tablespoon red wine vinegar
1 tablespoon lime juice
3 tablespoons olive oil