Sugar Free No Bake Raspberry Cheesecake Bites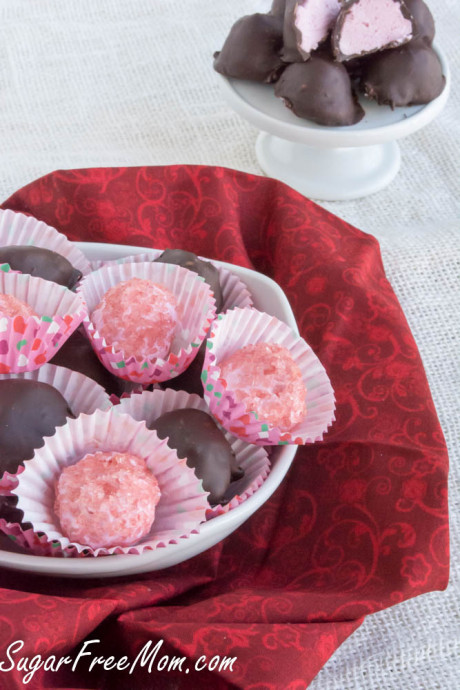 These Sugar Free No Bake Raspberry Cheesecake Bites are low carb, keto, gluten free and the prettiest of candies for special occasions!
These amazing grain free, sugar free cheesecake truffles have the creamiest of centers, and all the flavor of raspberry without any seeds getting in your teeth!When I think of favorite kinds of candy for enjoyment I've always been one to love a soft center.
More often than not I was left dissatisfied with a box of store bought chocolates. I'd much prefer a creamy soft candy to a hard or even caramel filled centered candy.
So this recipe is a little mix of both of my favorites. A soft smooth center and of course chocolate coated!
While these need to stay refrigerated until ready to serve since they contain cream cheese, they are worth it!
Ingredients:
8 ounces cream cheese softened
½ cup Swerve sweetener Confectioners
2 tablespoons heavy cream
1 teaspoon vanilla liquid stevia
pinch salt
3 teaspoons raspberry extract
few drops of natural red food coloring
¼ cup coconut oil melted
10 ounces Lily's sugar free chocolate chips melted