Tomato Chicken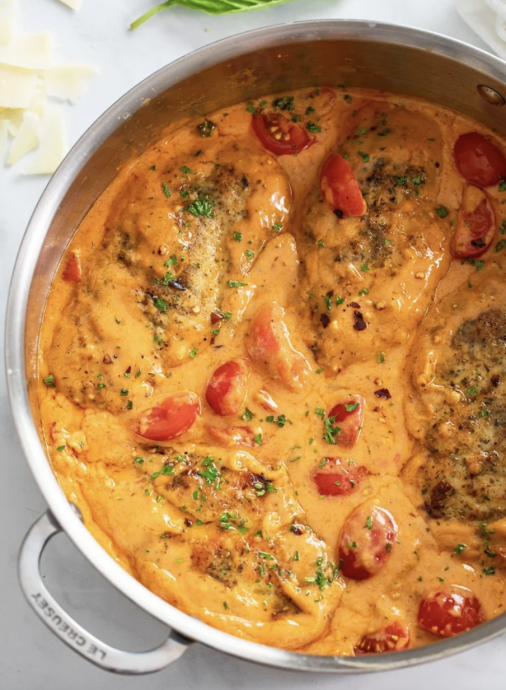 This Tomato Chicken recipe has a creamy tomato sauce with Parmesan, garlic, juicy tomatoes, and perfectly seasoned chicken. It's an easy skillet dinner that pairs well with roasted vegetables, potatoes, buttered noodles, and more!
This Tomato Chicken recipe is my absolute favorite thing to make when we have fresh garden tomatoes, or just extra tomatoes on hand that need to be used! It's like creamy tomato soup in the form of a chicken dinner, and I can't get enough. The creamy tomato sauce has a hint of Parmesan, garlic, a little white wine (or chicken broth if needed), and the best combination of flavor enhancers and seasonings.
My favorite secret ingredient in this recipe is just a touch of honey, which is a nice and subtle offset to the acidity of the tomatoes. I'm telling you, this recipe is perfection.
Ingredients:
Chicken
2 large boneless skinless chicken breasts
Salt/Pepper
2 teaspoons Italian seasoning
1/3 cup flour
2 tablespoons olive oil
Sauce
2 cups chicken broth
1 chicken bouillon cube or 1 tsp better than bouillon
1 teaspoon honey
1 teaspoon onion powder
1 teaspoon dried oregano
½ teaspoon mustard powder
½ cup dry white wine, see notes
3 tablespoons butter
3 cloves garlic
2 tablespoons flour
2 tablespoons tomato paste
½ cup half and half
1 tablespoon cream cheese, at room temp
½ cup Parmesan cheese, freshly grated
1 ½ cups cherry tomatoes, halved or quartered