White chocolate, cranberry & macadamia cookies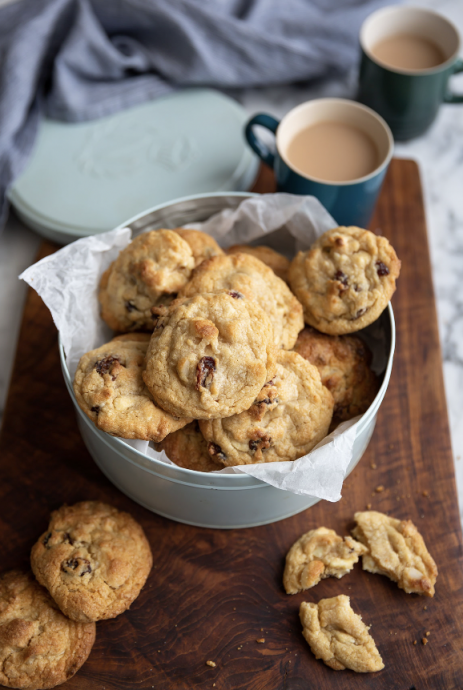 As far as American-style cookies go, these white chocolate, cranberry, and macadamia cookies are my all-time favourite. They are loaded with white chocolate chunks, tart cranberries, and buttery macadamia nuts.
I like to make them at any time of the year but they have a distinctive holiday vibe. You can add orange zest & cinnamon to the mix if you want to amplify this. I would add the zest of half an orange and half a teaspoon of cinnamon to this quantity of batter.
These white chocolate chip cookies have crispy edges and a lovely chewy middle. They can burn easily so be sure to check they don't from about 10 minutes into the baking time.
White chocolate chips are almost impossible to get in South Africa, so chopped-up white chocolate bars work perfectly here. White chocolate isn't really chocolate so I find an everyday brand works well.
Ingredients:
300gm white chocolate bars cut up into chunks – big and small pieces
100gm salted butter (at room temperature)
1 large free-range egg
50gm muscovado / brown sugar
80gm caster sugar
1 tsp vanilla extract
180gm (or 1 1/4 cup) flour
1 tsp baking powder
50gm dried cranberries
50gm macadamia nuts chopped