Cauliflower Black Bean Tostadas with Queso and Pickled Onion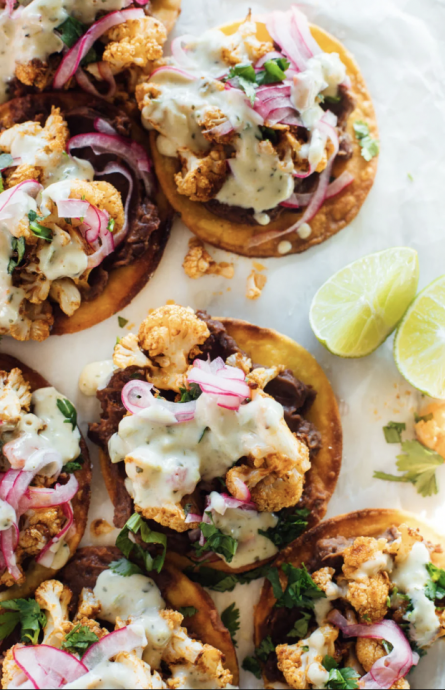 Tangy, creamy, crunchy, smoky, seasoned vegetarian goodness on a perfectly crisp little corn tortilla disk. Cauliflower Black Bean Tostadas to the rescue!
And this crisp, salty, quick-fried tostada topped with creamy refried black beans, seasoned roasty cauliflower, and some fresh tangy pickled red onions is NOT. HOLDING. BACK. And neither should you.
Did we mention the drizzle of your favorite queso on top? Yeah, all the best things! Super quick and easy with lots of available shortcuts and lots and lots of yum.
You could also prep the different components in advance if you're into a meal prep schedule. Just store everything separately and you're good to go come dinner time when you just need to quick heat and stack!
Ingredients:
Cauliflower:
1 large head of cauliflower, cut into florets
salt and olive oil
1 package taco seasoning (I like Siete brand)
Tostadas:
1 14–ounce can refried black beans (I like Amy's brand)
8–10 small corn tortillas (I like Mission street tacos tortillas)
1/4 cup of vegetable or canola oil
cilantro
pickled red onion (see notes)
queso (I like Queso Mama brand – the green chile variety)