Tomato Burrata Salad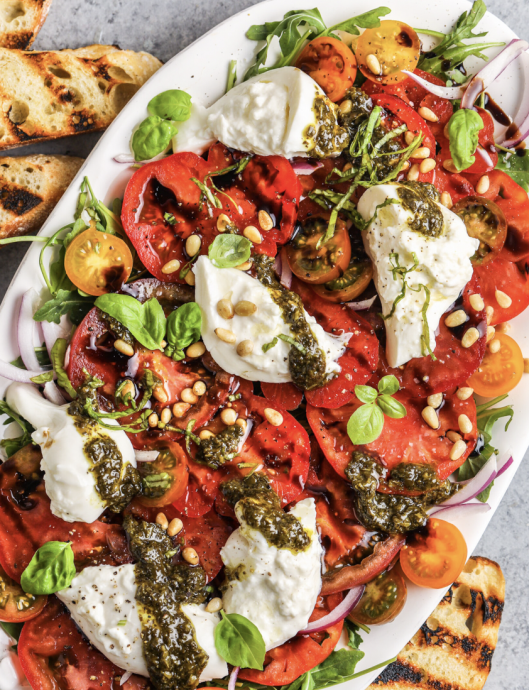 Creamy burrata cheese is arranged with tomatoes and onion and then tossed with arugula. It's all drizzled with balsamic and a bit of pesto for the perfect summer salad recipe.
Serve it as an appetizer, a light lunch or even pair it with a steak dinner.
Burrata is happiness. Seriously though, this cows milk cheese is similar to fresh mozzarella but made with extra heavy cream in the middle which gives recipes a rich, creamy flavor & texture.
Cut the burrata into quarters (or more). It is firmer on the outside and melty creamy inside.
Combine summer's bounty with freshly picked garden tomatoes or heirloom tomatoes, basil, and greens at their peak of freshness in this colorful salad!
Dress this salad simply with olive oil, sea salt, pepper and a bit of balsamic glaze or vinegar.
Add grilled chicken, chopped salami, or sliced prosciutto and make it a main dish!
Ingredients:
4 cups arugula or mixed greens
2 medium ripe tomatoes about 8 ounces
½ small red onion sliced
8 ounces burrata or more to taste
2 tablespoons fresh basil leaves thinly sliced
1 tablespoon toasted pine nuts or almonds
2 tablespoons olive oil
2 tablespoons balsamic glaze
¼ cup pesto prepared or homemade, optional