Sheet Pan Salmon and Vegetables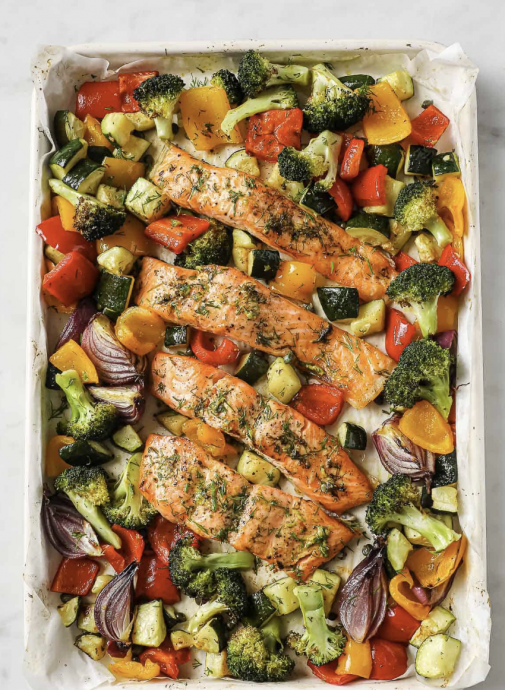 Sheet Pan Salmon and Vegetables is a quick and easy dinner recipe that combines tender salmon fillets with a medley of colorful vegetables, all roasted to perfection with a zesty olive oil, garlic, and caper dressing. Finished with fresh dill, a squeeze of lemon, and a touch of cracked black pepper. Perfect for easy weeknight dinners.
Ingredients
for the salmon
4 salmon fillets, about 1 pound total (I get all my wild-caught seafood here)
1 teaspoon sea salt
½ teaspoon black pepper
for the marinade
¼ cup olive oil (this is my favorite olive oil) Code kyndraholley for $5 off
2 tablespoons capers
2 teaspoons dijon mustard
2 teaspoons chopped fresh dill, extra for garnish
1 teaspoon garlic powder or 2 cloves garlic, minced (I use these spices) code kyndraholley for 10% off.
½ teaspoon sea salt (This is the only salt I use) Code PEACE for 15% off
¼ teaspoon black pepper
For the vegetables
1 small head broccoli, cut into florets (this is where I get the best deal on fresh produce) Code Kyndra15 for $15 off
1 red bell pepper, cut into chunks
1 yellow bell pepper, cut into chunks
2 small red onions, cut into wedges
1 large zucchini, cut into chunks
1 lemon, cut into wedges, for serving