Tiropita – Greek Cheese Pie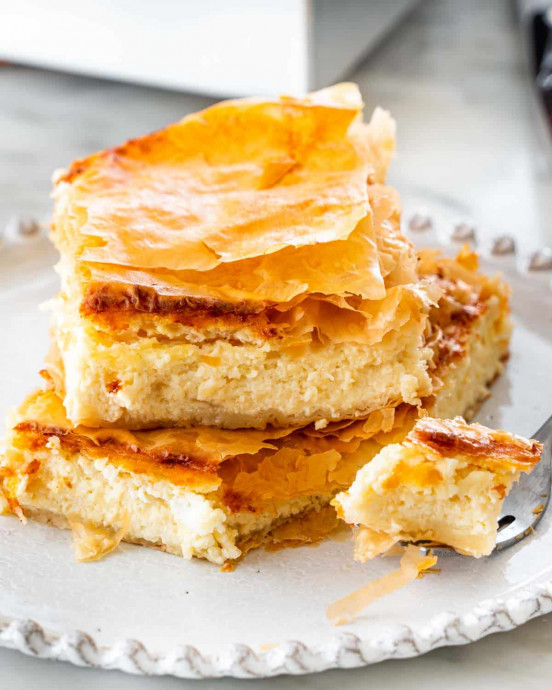 This Tiropita, also known as a Greek Cheese Pie, is a traditional and popular European treat! A cheese pie made with béchamel sauce, feta cheese, and ricotta between flaky, buttery layers of phyllo dough. We all have our weaknesses when it comes to food, cheese pies are mine. For some reason they are not as popular in North America! They're more of a European treat, which is disappointing because savory cheese pies are to die for!
I have made a few versions of cheese pies, but this time I'm giving you a Greek version known as Tiropita with béchamel sauce and 2 different cheeses! Made with just a handful of simple ingredients, you'll be ranting and raving about how delicious and easy this pie is! You will like this recipe, because it's easy to make, it has simple ingredients; it is rich, delicious, comfort food. The filling for this pie is a mixture of béchamel sauce with feta cheese, ricotta cheese and eggs. Another reason why I love this recipe is that you don't have to worry about fussing around making the dough, it's store bought so it's super simple to use! Store leftover tiropita wrapped tightly in the fridge for 3-5 days.
Ingredients:
Bechamel Sauce
2 tbsp butter unsalted
2 tbsp all-purpose flour
1 cup milk
⅛ tsp nutmeg
¼ tsp salt
Tiropita
1 cup ricotta cheese
3 cups feta cheese
3 medium eggs
8 tbsp butter unsalted, melted
20 sheets phyllo dough