Tomato Pie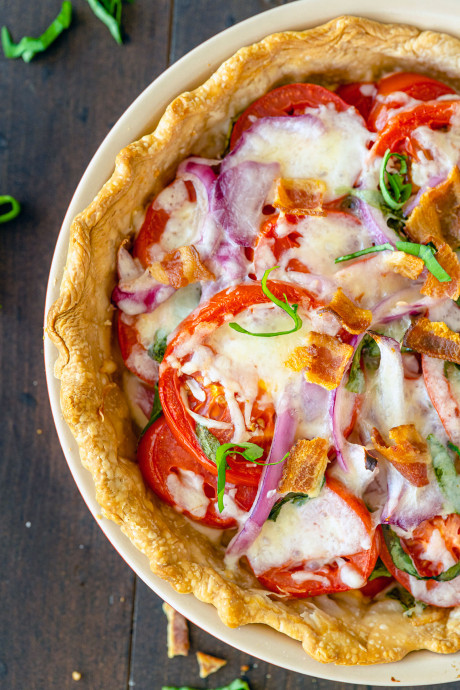 What do you do when you want something rich and nutritious, but in pie form? A tomato pie, of course! Mixing vegetables, cheese, and mayonnaise into a pie crust might sound like an odd idea, but it actually makes something incredibly delicious and nutritious as well.
A tomato pie is an old Southern tradition, combining fresh tomatoes with vegetables and mayonnaise into a pie crust, making something that is as tender as a quiche but tastes almost like a vegetable casserole. Traditionally speaking, this recipe was made using firmer, slightly green tomatoes that weren't good enough to be used in other recipes. If you really want to stick to the historical recipe, you can try and find some slightly greener tomatoes, or possibly even squeeze a little bit of lemon juice over the tomatoes to help replicate that slightly acidic taste that green tomatoes have. Try not to use any of those really good heirloom tomatoes in this recipe, though – their delicate flavor will get totally lost in this pie.
The texture might take some getting used to, but assuming you allow it 10 minutes to cool before cutting into it, it should be gooey and tender while still holding its shape really well.
Ingredients:
1 store bought pie dough bottom crust only
4-6 large beefsteak tomatoes
1 small red onion thinly sliced
1/2 cup mayo
1/2 tsp paprika
2 cups Monterey Jack Cheese
2 cloves garlic minced
5 slices bacon
1 tablespoon fresh basil sliced in ribbons