Peach Blueberry Cobbler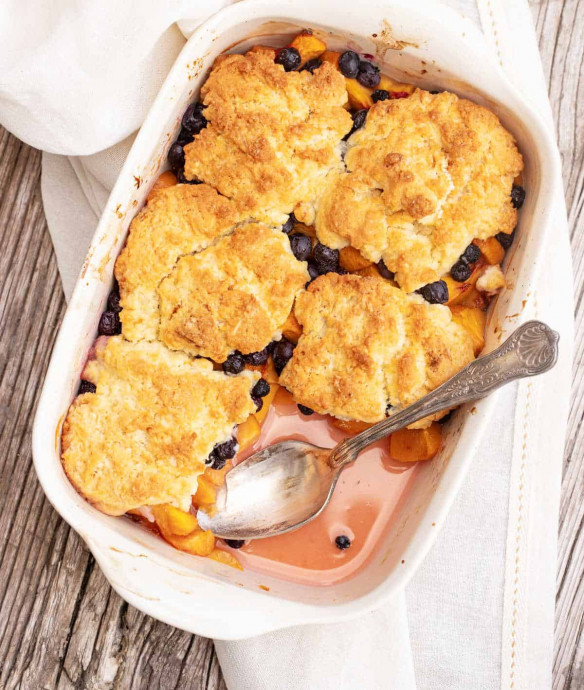 This easy cobbler recipe showcases the flavors of fresh peaches and blueberries in a dessert everyone will love! It consists of a juicy fruit layer topped by a biscuit dough that bakes to a golden brown and is wonderful served with a scoop of vanilla ice cream. You can use fresh or frozen fruit and it can be made ahead.
It's a baked dessert that has a layer of fruit and a starchy topping.
The fruit bakes and releases its juices at the same time that the top dries and turns golden brown. A fantastic and very easy-to-make dessert!
There are different types of toppings or top crust as it's sometimes called.
Drop biscuits, the type we're using for this recipe today, is a wetter, spoonable dough that can also be lightly spread, as we do for our popular Pear Cobbler.
Ingredients:
For the fruit layer:
2 pounds of peaches, before removing stones (about 1.6 pounds peeled and cored)
1 cup blueberries, fresh or frozen without thawing
2 tablespoons brown sugar
1 tablespoon lemon juice
For the topping:
1 cup flour
1 tablespoon baking powder
¼ teaspoon salt
¼ teaspoon lemon zest (optional if you want more lemon flavor)
4 tablespoons (¼ cup) sugar
¼ cup milk
¼ cup butter, melted